Road Open To: Mile 3 (Park Headquarters)

The Park Road is currently open to Mile 3, Park Headquarters. Wintry conditions beyond that point prevent vehicle travel, though pedestrian travel is permitted. More »
Transportation and Support Services
Use this page to help plan the logistics of your mountaineering expedition.

Jump to: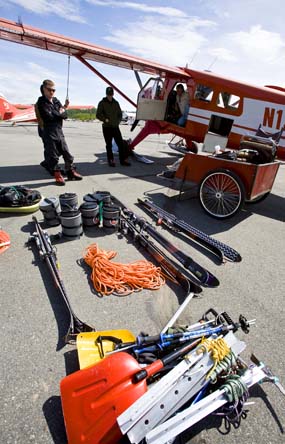 Photo Ian Shively
Authorized Air Taxi Operators

Fly Denali
PO Box 1152
Talkeetna AK, 99676
Phone: 907-733-7768
Toll Free: (866) 733-7768
Fax: 907-733-7767
www.flydenali.com

K-2 Aviation
P.O. Box 545
Talkeetna, AK 99676
Phone: (907) 733-2291
Toll Free: (800) 764-2291
Fax: (907) 733-1221
www.flyk2.com

Sheldon Air Service, LLC

P.O. Box 648
Talkeetna, AK 99676
Phone: (907) 733-2321
Toll Free: (800) 478-2321
www.sheldonairservice.com
Talkeetna Air Taxi

P.O. Box 73
Talkeetna, AK 99676
Phone: (907) 733-2218
Toll Free: (800) 533-2219
Fax: (907) 733-1434
www.talkeetnaair.com
Numerous Parks Highway transportation options exist; the following list includes only those with an office in downtown Talkeetna, Alaska.
Alaska Railroad
P.O. Box 107500
Anchorage, AK 99510
Phone: (907) 265-2494
Toll Free: (800) 544-0552
www.akrr.com

Denali Overland Transportation
P.O. Box 330
Talkeetna, AK 99676
Phone: (907) 773-2384
Toll Free: (800) 651-5221
Fax: (907) 733-2385
www.denalioverland.com

Talkeetna Taxi
Talkeetna, AK 99676
Phone: (907) 355-TAXI
www.talkeetnataxi.com


Food Packaging / Transportation
Exposure Alaska
200 W. 34th Ave. #82
Anchorage, AK 99503
Phone: (907) 761-3761
www.exposurealaska.com
Dog Sled Support

Expeditions approaching from the north side of the Alaska Range needing to haul in freight may contact:

Denali North Side Supply
1-360-313-7038
denalinorthside@yahoo.com

Radios and Telephones

FRS (Family Radio Service) radios are recommended. The NPS monitors FRS 1. These radios are also very useful for communication with other expeditions. These radios are line-of-sight and their usefulness depends upon your location on the mountain.

Cellular telephone service is generally available in the area, but coverage is limited in the mountains. Access is better at higher elevations (above 14,000 feet) depending on your location, however coverage fluctuates from year to year as technology changes. The two primary carriers are AT&T Wireless and Matanuska Telephone Association (MTA) Wireless, the latter of which maintains reciprocal agreements with carriers from around Alaska and the Lower 48 states. Climbers should check with their cellular service provider to see if cell coverage is possible.

Satellite phones work well in most areas. Among other vendors, they can be rented from:

Globalstar Satellite Phones / 866-728-7368 / www.spiritwireless.com
Iridium Satellite Phones / 877-258-3496 / www.bluecosmo.com
Whenever Communications / 877-286-6178 / www.satellitephonestore.com

Other rental companies may also be found in state. (Run a satellite phone rental business? Contact us to be listed here).

Rental Equipment

The following businesses offer a limited selection of climbing equipment available for rental or purchase.

Alaska Mountaineering & Hiking
2633 Spenard
Anchorage, Alaska 99503
(907)272-1811

AMS Mountain Shop
F Street
Talkeetna, AK 99676
(907) 733-1016; (907) 354-1233

R.E.I.
1200 West Northern Lights
Anchorage, Alaska 99503
(907)272-4565

Fuel

White gas is available in Talkeetna, as well as a limited supply of butane/propane canisters. Other bottled fuels are available in Anchorage. Contact your air service operator before purchasing white gas, as they supply white gas in bulk to the Kahiltna Base Camp.

Photographs

You can acquire high quality, black and white photographs taken by Bradford Washburn of mountains and routes in the Alaska Range. These 8 X 10 inch negatives are presently stored at the University of Alaska in Fairbanks. If you know the specific photo number, you can purchase the photo directly from the University. Otherwise, you will need to write to the Museum of Science at the address listed below. Include the route description to get the photo number.

To get photo numbers:

The Museum of Science, Science Park
Boston, Massachusetts 02114-1099
Phone: (617) 589-0229

To purchase photographs:

c/o Alaska and Polar Region Department
University of Alaska - Fairbanks
Fairbanks, Alaska 99775-1005
Phone: (907) 474-6594; or (907) 474-6400
Fax: (907) 474-6365



Did You Know?

The visitor center at Denali National Park and Preserve received an award for its environmentally friendly design. Some of the center features are built with renewable and recycled materials, as well as locally found materials.