Mountaineering Guides
It is the individual climber's responsibility to insure that the guide chosen is one of the six authorized guide services. Any individual or group that is found to be guided by an unauthorized guide will have their registration voided, be removed from the mountain, and issued a citation.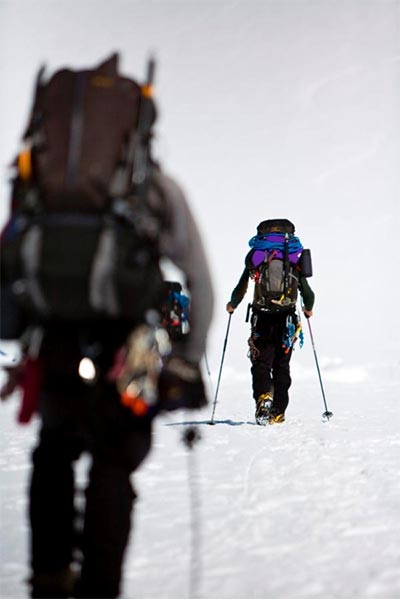 Photo: Ian Shive
Alaska Mountaineering School
P.O. Box 566
Talkeetna, AK 99676
Phone: (907) 733-1016
Fax: (907) 733-1362
www.climbalaska.org
Alpine Ascents International
109 W. Mercer St.
Seattle, WA 98119
Phone: (206) 378-1927
Fax: (206) 378-1937
www.alpineascents.com
American Alpine Institute
1515 12th Street
Bellingham, WA 98825
Phone: (360) 671-1505
Fax: (360) 734-8890
www.alpineinstitute.com
Mountain Trip International, LLC
P.O. Box 658
Ophir, Colorado 81426
Phone: (970)369-1153
Fax: (303) 496-0998
www.mountaintrip.com
N.O.L.S.
P.O. Box 981
Palmer, AK 99645
Phone: (907) 745-4047
Fax: (907) 745-6069
www.nols.edu
Rainier Mountaineering, Inc.
P.O. Box Q
Ashford, WA 98304
Phone: (360) 569-2227
Fax: (360) 569-2982
www.rmiguides.com
Did You Know?

Mount McKinley, located within Denali National Park and Preserve, is the highest mountain on the North American continent. Measured from the 2,000 foot lowlands to its snowy summit at 20,320 feet, the mountain's vertical relief of 18,000 feet is greater than that of Mount Everest.