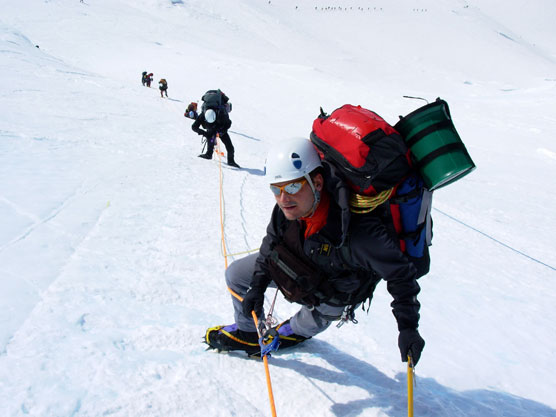 Courtesy Coley Gentzel
Clean climbing practices (aka 'Leave No Trace Mountaineering') on Denali have evolved over the past thirty years. A successfully enforced "pack in-pack out" policy began in the late 1970's, with climbers removing all their garbage from the Alaska Range. Today we take this program one step further by mandating the removal of human waste from historically contaminated areas such as the West Buttress high camp at 17,200-feet. These problem locations have not only been unsightly, but often the source of polluted snow linked to gastrointestinal illness.
The Denali mountaineering rangers attempted various innovative measures to solve the human waste issue over the years. Conceived by mountaineering ranger Roger Robinson, the Clean Mountain Can (CMC) is a portable toilet designed to address Denali's remote, rugged environment and the unique logistical challenges presented by a 3-week long expedition. In 2000, a 24-day ranger patrol led by Robinson proved it was feasible to completely remove an expedition's human waste from the mountain using commercially designed river toilet boxes. Robinson then worked with the manufacturer of this toilet to create a smaller, lighter version. A grant from the American Alpine Club (AAC) in 2001 enabled the purchase of 50 of these prototype toilets which were used voluntarily by climbers with favorable results.
Robinson continued to work with the same manufacturer to enhance the can design, and through grants from both the AAC and the Access Fund, 220 newly designed Clean Mountain Cans were purchased for a large scale trial in 2002. Over 500 climbers used the CMC's, successfully removing their human waste from the polluted 17,200-foot high camp. Response from the more widespread trial was again favorable. (See Annual Mountaineering Summaries 2000 through 2004 for more information on these trials). Climbers and park management alike were pleased with the voluntary compliance, the ease of using the CMC, and most importantly, a noticeable improvement in cleanliness and hygienic safety of the 17,200-foot camp.
In order to assist expeditions in successfully preparing for a 'clean climb', Denali's mountaineering rangers created the brochure Trash and Waste Policies for Glacier Environments. This helpful planning information is sent to registered mountaineers and other prospective visitors to the glaciated backcountry areas of the park.
To address impacts in other heavily used areas of the Alaska Range, in 2006 Denali National Park and Preserve required the removal of human waste from within half mile of all glacier landing strips. The following year, the park established the formal requirement that all human waste be removed from the high camp with CMC's. These two new regulations, based on recommendations contained in the park's Backcountry Management Plan, were major milestones for the clean climbing effort. Keeping pace with the program, the Denali National Park and Preserve has gradually increased its inventory of Clean Mountain Cans to 1,100 units in circulation as of 2007, funded in part by a portion of climber's Special Use Fee. Of note, use of the CMC remains voluntary for travel in other glaciated areas of the Park, though all human waste must be crevassed with a biodegradable plastic bag.
In 2007, Denali National Park and Preserve began a multi-year research project tracking waste movement within the Kahiltna Glacier from popular camp locations. Further research will focus on the degradation of human waste once it surfaces.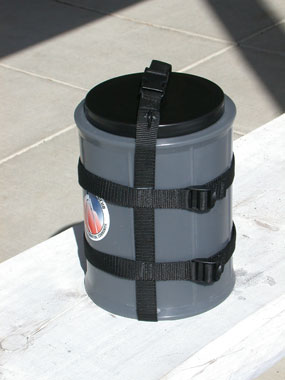 CMC Specifications

The Clean Mountain Can is designed specifically for human waste in terms of size, weight, and strength. The durable CMC comes with a harness system that can lock the lid down and is sturdy enough to strap on a pack or sled. The CMC capacity is 10 to 14 uses (approximately one-half pound per use) including the addition of some toilet paper. The current model Clean Mountain Can (CMC) is designed to hold 1.88 gallons of human waste and has a U.S. Department of Transportation-approved two-way vent. This Gortex vent allows for the release of gases through the screw down lid and enables air to enter when upon descent from higher elevations. The #2 polyethylene container is cylindrical in shape, measures 11 inches tall with an 8 inch diameter opening, and weighs 2.4 pounds. The 8 inch opening has a half inch flange that functions as the seat and the seal for the lid. The sturdy can is recommended to be sat on when in use. In five testing trials, a CMC was filled three-quarters full with solid ice and dropped four feet onto concrete at an outdoor temperature of zero degrees Fahrenheit. The CMC was not damaged in these drop tests. Several CMC's have even been accidentally dropped off the West Buttress, tumbling over 2,000 feet without damage! The CMC is designed to have its contents dumped directly out or lined with a biodegradable bag and then rinsed for final cleaning. Currently, the CMC's are manually cleaned by a local septic pumping company using several washes of soap and bleach.
If you have specific questions on Denali National Park & Preserve's Clean Mountain Can program, please contact Ranger Roger Robinson at (907) 733-9108 or e-mail us.