Welcome to the Puppycam, an annual webcam that depicts the early lives of sled dog puppies at the Historic Park Kennels at Denali National Park and Preserve in Alaska. For updates on the pups and other park activities, follow DenaliNPS on Facebook, Twitter, Flickr, and YouTube.
Since 2010, the annual "Puppycam" has provided a worldwide web audience with early glimpses of the park's youngest canine rangers.
The camera provides an overhead view of the maternity pen. It is turned on each spring / summer as pups approach four weeks of age and become more active outside their house. It is turned off in the fall, after the pups are weaned and grow big enough to leave the maternity pen to live in other areas.
Learn more about the sled dogs and the ongoing role they serve in park operations at kennels web pages, including online video episodes of Puppy Paws, as well as a kennels blog.
For updates on the pups and other activities throughout the park, follow DenaliNPS on Facebook, Twitter, Flickr, and YouTube.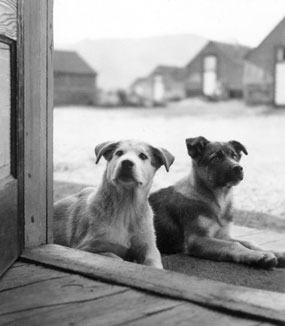 COURTESY CANDY WAGAMAN COLLECTION
Beyond Cute

Mushing is a cultural tradition across Alaska that dates back many thousands of years. It also provides the National Park Service the most effective available means to patrol vast areas of designated Wilderness during the long winter season.
Managers of the historic Denali sled dog kennels take great care in breeding for qualities suitable for the challenges and responsibilities of a Denali sled dog. Physical traits include long legs to break trail through deep snow, compact paws to resist build up of ice between toes, and sturdy coats and puffy tails to keep warm in the depths of sub-arctic winter. Character traits include tenacity, an unbridled love to pull and run as part of a team, and social skills that tolerate attention of many thousands of admirers to visit the kennels each summer.