Wilderness Through the Eyes of a Student Conservation Association (SCA) Intern
Each summer, the Denali Kennels hires two interns through the Student Conservation Association to interact with visitors and assist in the daily care of their canine rangers.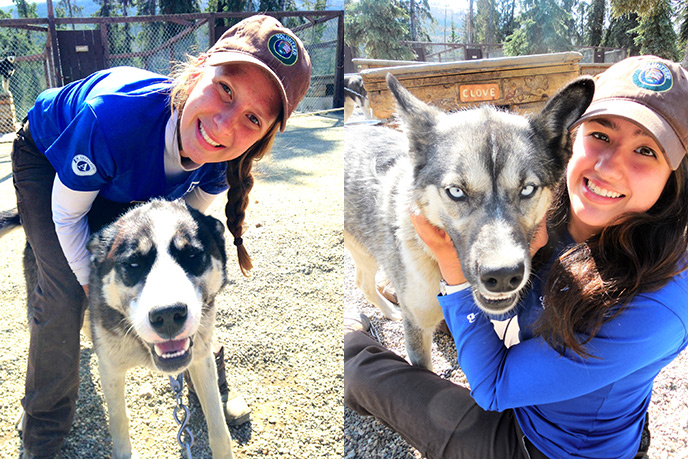 2014 SCA Summer Kennel Interns, Kelly Bell and Marinell Chandler
Founded in 1957 in response to an overwhelming need to take care of our nation's national parks, the Student Conservation Association strives to build the next generation of conservation leaders by engaging young people to become stewards of their communities and the environment. Over the last 57 years, the SCA has given over 75,000 young people the opportunity to make a lasting impact in our nation's public lands and urban spaces. Internship positions range anywhere from environmental education to fire management, fishery science to digital media, and everything in between.

Our internship at the kennels, however, is especially unique, since Denali is the only park in the United States that employs sled dogs to help protect its wildlife and wilderness. Having been here for just over a month, I have been amazed by the incredible impact these dogs have on the functioning and sustainability of the park each year. We call them "Canine Rangers" because they, too, are stewards of the park. These amazing animals allow us to access remote areas of Denali in winter. They help rangers contact winter visitors, haul supplies into and remove debris from hard to reach locations, and transport researchers to and from study areas throughout the 6 million acre park. By using the sled dogs to accomplish each of these tasks, we minimize our impact on the wilderness and wildlife that is so precious in Denali.   

A bear digs for roots, and a red fox feasts on a ground squirrel along the park road 
On one of our first trips into the park, we were assigned the task of cleaning out the Wonder Lake cabin, one of many shelters that the park rangers use on patrol during the winter season. Visitors traveling through the park are often anxious to see the wildlife that thrives here and we were no different, nor were we disappointed. We watched a red fox hunt and eat a ground squirrel in the tundra, and encountered a grizzly bear foraging for food beside the park road. Both animals were completely uninterested in the excited photography coming from the inside of the truck. Although our wildlife encounters were spectacular, there was one more elusive park icon that I was desperate to see: Mount McKinley.
The weather forecast for the day had been promising – partly cloudy, warm – but as we drove further west, Mount McKinley remained behind a thick blanket of clouds that hung over the Alaskan Range. Knowing that less than 30% of those who travel into the park ever see the mountain, I tried to envision it: how much higher it rose than the surrounding mountains, the vertical climb, and what the highest peak in North America looks like from base to summit. It was hard to imagine, but I didn't have to visualize it for long.
In a short ten minutes, with the range stretching parallel to the road, the thick clouds began to slide away before our eyes. It started from the top: the North and South summits appeared from above the clouds – MUCH higher than I imagined they would – and soon the entire mountain stood in all of its beauty, as though it had come out just for us. Before we began our cabin cleanup work, we stopped at Reflection Pond, where many iconic pictures of Mount McKinley have been taken. It was truly humbling to stand beneath it knowing years ago, the park's early visitors had stood in the same place we were standing, saw what we were seeing, and that the mountain and everything around it had remained largely unchanged.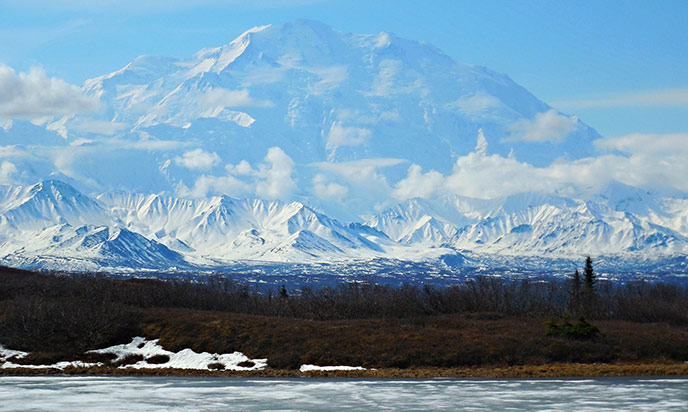 Mount McKinley stands above the clouds across Reflection Pond
In this increasingly technological age, it is absolutely fundamental that the excitement and wonder of our national parks and wild places be impressed upon our nation's youth. The Wilderness Act states, "it is hereby declared to be the policy of the Congress to secure for the American people of present and future generations the benefits of an enduring resource of wilderness". The up and coming generation – my generation – must understand the importance of keeping these places protected for ourselves as well as for future generations. The SCA and the National Park Service continue to strive towards this goal every day, finding ways to make connections that will last a lifetime.
For me, and for many that visit Denali, that connection to wilderness is made through the sled dogs.  There is nothing more satisfying than to walk to work in the morning and be greeted by 31 furry coworkers who truly love what they do. Each winter they run over 3,000 miles within the park boundaries, mainly in wilderness. To put this in perspective, 3,000 miles stretches from East coast to West coast in the lower 48, meaning each winter the dogs run the equivalent of a transcontinental trek. Each summer they greet and inspire over 50,000 visitors to the kennels to go out and experience the wilderness areas of the park for themselves. These dogs have devoted their lives to exploring and protecting this park, and have already inspired me (and, hopefully, many others) to do the same.

This summer, I urge you to read more of our kennels blog, browse the park website, or come see us in person. Make your own memories, and be inspired by the breathtaking wildlife and wilderness that our canine rangers continue to protect. Our national parks and wilderness areas were established for everyone to enjoy. Each connection that is made is a testament to the significance of Denali and the importance of protecting it not only for the wildlife who depend on this land to survive, but also for the people who benefit from all that our wilderness has to offer.

wildlife, mount mckinley, student conservation association
Post A Comment
Did You Know?

Warmer temperatures have led to dramatic thawing of permafrost. Thaw releases carbon, as once-frozen materials decompose, but allows increased plant growth. Researchers in Denali are studying whether thawing permafrost will increase or decrease world-wide carbon emissions.