Things To Do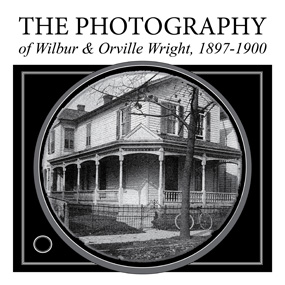 The Photography of Wilbur and Orville Wright, 1897-1900

Dates: December 18, 2014 - December 18, 2016
Location: Wright-Dunbar Interpretive Center
Fees: NO Fees
On exhibition at the Wright-Dunbar Interpretive Center from December 18, 2014 - December 18, 2016.
Before using their camera as a scientific tool at Kitty Hawk while documenting their aeronautical experiments, the Wrights taught themselves photography in their hometown of Dayton. Using photographic prints from the Wilbur and Orville Wright Papers at the Library of Congress and associated artifacts, the exhibit takes visitors on a tour of Dayton through the Wright brothers' lens.
Take time to explore your national park
Whatever your time frame, Dayton Aviation is sure to have something for you to see and do.
The Wright-Dunbar Interpretive Center and Aviation Trail Visitor Center and Museum, located at the corner of Williams and West Third Streets, hosts an orientation movie, a restored Wright brothers' print shop, and exhibits operated by the National Park Service. Ranger-guided tours of the restored Wright Cycle Company building, located at 22 South Williams Street, are available upon request. Large groups should call first for reservations, 937-225-7705.

Huffman Prairie Flying Field Interpretive Center, located at Wright Brothers Hill, offers an orientation movie and exhibits on the Wright brothers' continuing experiments at the flying field, as well as advancements in aviation technology at Wright-Patterson Air Force base. Self-guiding facilities are available at Huffman Prairie Flying Field. Both sites offer ranger-guided tours. Large groups should call first for reservations, 937-425-0008.

Maybe your children would like to be Junior Rangers!

Be sure to explore the variety of exhibits and visitor services available at the Paul Laurence Dunbar House and Dayton History at Carillon Park (Fee sites).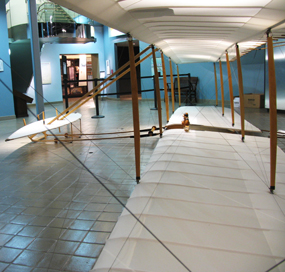 NPS Photo
Wright brothers' 1902 glider replica
Stop by the Wright-Dunbar Visitor Center and see a full size replica model of the Wright brothers' 1902 glider. This glider helped the brothers discover balance and control - their next flyer would have an engine that would make them the first to fly a heavier-than-air machine on December 17, 1903.We are looking forward to more great rides! Get ready!