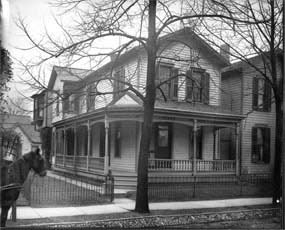 Wright State University Special Collections and Archives
As the neighborhood developed, the average homes were one or two story frame structures. One of the first families to purchase one of the new homes was the Milton Wright family. Their home was constructed on the lot at 7 Hawthorn Street in 1868. The family lived there from 1871 to 1914, when Milton, Orville, and Katharine, the three family members still living in the home, moved into Hawthorn Hill in Oakwood. The 7 Hawthorn Street home was a modest, two-story Victorian frame dwelling that stood out due to its Victorian porch that wrapped around the front and one side of the house. Wilbur and Orville built the porch, using a lathe that Orville had made from scrap metal and wood. The lot was less than forty feet wide. The home now resides in Dearborn, Michigan as part of the Henry Ford Museum and Greenfield Village, and the lot contains a replica of the front porch and several interpretive panels to give visitors an idea of what used to be on the lot and the history of the Wright family and their lives in Dayton, Ohio.
One of the few brick homes in the neighborhood is located at 30 S. Williams Street. Constructed post-1869, it was owned by Frank Hamburger, a gentleman who owned and operated a hardware store along West Third Street. Rehabilitated by the city of Dayton, the home is now the location of the administrative offices of Dayton Aviation Heritage National Historical Park.
The Queen Anne style house located at 803 West Fifth Street was the residence of Captain Robert H. Mallory, known for his relentless efforts on behalf of Dayton's African-American community. Following his military service as a captain in World War I, Mallory served as Executive Director of the Linden Community Center for seventeen years, devoting his life to furthering the interests and quality of life of Dayton's African-American community.
Among the residential homes, are some commercial structures. At 907-915 West Fifth Street is one of the oldest African-American YMCA's in the country. Through the efforts of several leaders in the community, including Captain Robert Mallory, Edward T. Banks, and Dr. Lloyd Cox, this facility opened on New Year's Day, 1928. In 1978, the YMCA relocated to a new facility on Dayton-Liberty Road. The building was rehabilitated in the 1990s, and it is currently the location of the Dayton Urban League.