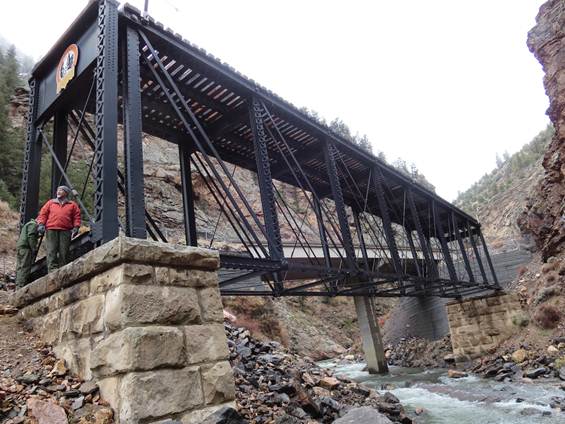 NPS
January 2014
With the restoration and return of the D&RGW Locomotive #278, and its tender, the second phase of the Cimarron Train Restoration Project is finally underway. This phase will determine the condition of the bridge across the Cimarron River where the locomotive and related cars were displayed, and address any repairs needed.
In the summer of 2012 a detailed inspection of the bridge was made, and every crack, mend, missing rivet and twisted piece of metal was thoroughly documented. This information is now being used by an engineering firm to determine if any of these factors affects the ability of the bridge to safely hold the train for display. Any factors that would represent a risk will be scheduled for repair.
A coatings specialist from the Bureau of Reclamation inspected the bridge in the fall of 2013 and documented areas of rust and the degree that the paint had deteriorated. His report made several recommendations for repainting the bridge.
The bridge inspection and coating study will guide work during the summer of 2014 to repair and paint the bridge. The bridge is listed on the National Register of Historic Places, and whether the train returns to the bridge or not, the NPS is dedicated to preserving the bridge because of its own significance.
What is phase three of the Cimarron Train Restoration Project? The park is currently preparing contract specifications and funding for the restoration of Caboose #0577. Completion of that phase should occur in 2015 or 2016.