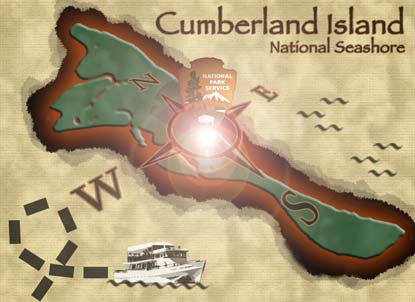 Cumberland Island Graphic
For a safe enjoyable journey prepare yourself by wearing comfortable walking shoes, packing a lunch, snacks, and drinking water, using bug repellent, wearing sunscreen and/or a hat for protection, and finally pace yourself, especially in summer heat. Beach accessible wheelchairs are available. Please advise Park staff at check-in that you are requesting a chair.
Since the ferry is a passenger only ferry, visitors should plan on walking for all activities.
The Park's concession rents bicycles at Sea Camp. You must check with the ferry deck hands to rent bicycles and this may be done as long as the ferry is in port. Park Service staff does not handle bike rentals.