Sugar Run Trail Closed to Horses

The Sugar Run Trail is temporarily closed to horse use due to the number of fallen trees as a result of recent storms. The trail is still open for hikers, but hikers should use caution.
Shuttle to Hensley Settlement

There will be no shuttle or tour to Hensley Settlement on August 10, 2014. Tours on other days will continue to be offered as scheduled. For questions and more information please call the park visitor center at (606) 248-2817, extension 1075.
Back the Bears!

Support the park's "Back the Bears" campaign and help keep our bears wild and safe! More »
Cave Tour Alert!

White Nose Syndrome is a disease that is killing bats in great numbers and has been found in park caves. While visiting Gap Cave please do not wear or bring anything that has been in other caves. Skylight Cave is currently closed.
Outdoor Activities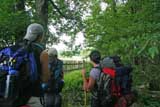 NPS PHOTO
Hiking and Backpacking
There are over 80 miles of hiking trails in the park ranging from short, easy 1/4 mile hikes to the 21 mile Ridge Trail. More...
Backcountry trails lead to remote, wilderness areas. Backcountry camping is allowed in designated sites with a permit. Permits are free of charge and can be obtained at the park visitor center.
Reservations for backcountry camp sites can be made up to 90 days in advance by calling (606)248-2817.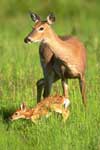 Photo by Chuck Summers
Signtseeing and wildlife watching
The history and natural world come alive throughout the park. A multitude of historic sites can be seen in the park including: Civil War fortifications, the ruins of an old iron furnace, and hand-hewn cabins and split rail fences at Hensley Settlement.
Wildlife is abundant in the park and includes: deer, beaver, fox, bobcat, bear, and over 150 species of birds!

NPS PHOTO
Fantastic geologic formations abound and mountain streams offer a wonderful respite from the heat of the summer.
NPS PHOTO
Photography
The trails and vistas are a paradise for photographers! The mountains come alive in the spring as wildflowers bloom throughout the park. The summer is a great time to photograph some of the abundant wildlife and the wide array of historical structures and sites. The southern mountains burst in to color in the fall as the leaves begin to change in preparation for the winter. Snow transforms the mountains in to a winter wonderland.


Did You Know?

Gap Cave has also been called: King Solomon's Cave, Soldier's Cave, and Cudjo's Cave! The cave was originally referred to as "Gap Cave" because of its proximity to the Gap. When early pioneers saw the cave they knew they were about to cross the mountains into the wilderness of Kentucky.