No Cave Tours or Hensley Tours on September 27

There will be no Gap Cave or Hensley Settlement tours offered on September 27, 2014 due to special Heritage Walk program. For more information please call the park visitor center at (606) 248-2817, extension 1075.
Sugar Run Trail Closed to Horses

The Sugar Run Trail is temporarily closed to horse use due to the number of fallen trees as a result of recent storms. The trail is still open for hikers, but hikers should use caution.
Back the Bears!

Support the park's "Back the Bears" campaign and help keep our bears wild and safe! More »
Cave Tour Alert!

White Nose Syndrome is a disease that is killing bats in great numbers and has been found in park caves. While visiting Gap Cave please do not wear or bring anything that has been in other caves. Skylight Cave is currently closed.
Take A Hike!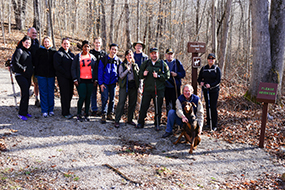 Photo by park volunteer Richard Bishop
Hiking opportunities abound at Cumberland Gap National Historical Park!
There's something for everyone with hikes ranging from easy 1/4 mile strolls to mutiple day adventures in the backcountry. Ranger led hikes are offered throughout the year and provide the opportunity to explore the park with a group while learning about the colorful history and fantastic natural resources.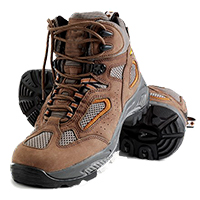 Day Hikes
There are over 80 miles of trails in the park. Some are very strenuous and involve steep terrain and considerable elevation gain and some are quite easy with little to no elevation gain. Trails throughout the park are very well marked with signs at most trail junctions. Maps feature park trails and highlight points of interest. The map above showcases some of the hiking trails found near the park visitor center and the historic Wilderness Road. Day Hikes guide available here or at park visitor center.
Be Educated and Responsible Stewards

Support the bears in your national park and your area, check out the "Back the Bears" campaign at Cumberland Gap National Historical Park! Read More

Get the latest NOAA weather forecast

Link to the NOAA website

View from the Pinnacle Overlook

The Pinnacle Road near the park visitor center leads to the Pinnacle Overlook and a fantastic view of the historic Cumberland Gap. Read More

Help protect your national park!

Cumberland Gap Tip Line: Report any crimes or suspicious activity including damage or theft of park resources. Read More
Did You Know?

Vice President Richard Nixon visited Cumberland Gap on July 3, 1959 to commemorate the formal dedication of the park which took place the following day. While at the park he visited the scenic Pinnacle Overlook and attended festivities in the nearby town of Middlesboro, Kentucky.