Operating Hours & Seasons
The Monument and Preserve is open every day of the year, 24 hours a day. Winter snows prevent automobile access around the Loop Road from mid-November through mid-April.

Visitor Center Hours
Memorial Day through Labor Day:
8 a.m. to 6 p.m. daily
Rest of the year:
8 a.m. to 4:30 p.m. Closed on federal holidays during the winter.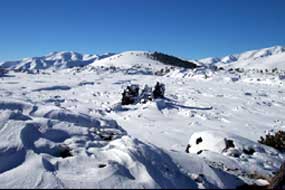 Seasons: Every season has its own special qualities. Find out what the park is like at other times of the year.


Did You Know?

Vast quantities of water stored by the lava rock aquifer below the Eastern Snake River Plain provides for critical human needs throughout southern Idaho...including those famous potatoes!