Operating Hours & Seasons
Operating Hours
The Monument and Preserve is open every day of the year, 24 hours a day. Winter snows usually prevent automobile access around the Loop Road from mid-November through mid-March.

Visitor Center Hours
Memorial Day through Labor Day:

8 a.m. to 6 p.m. daily
Rest of the year:
8 a.m. to 4:30 p.m. daily. Closed on federal holidays during the winter.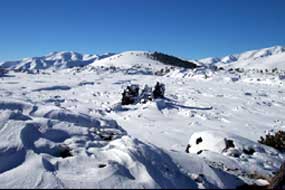 Seasons
:

Every season has its own special qualities. Find out what the park is like at other times of the year.