Operating Hours & Seasons
The Monument and Preserve remains open all year, although winter snows prevent automobile access around the Loop Road from mid-November through mid-April. When the road is open, it remains open at all hours.

The Visitor Center is open year-round from 8 a.m. to 4:30 p.m. daily (8 a.m. to 6 p.m. Memorial Day through Labor Day). Closed on federal holidays during the winter.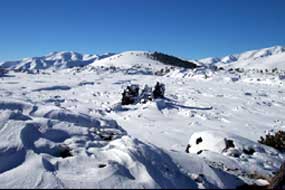 Seasons: Every season has its own special qualities. Find out what the park is like at other times of the year.


Did You Know?

"the Devil's Vomit" is how one Oregon- bound pioneer described his encounter with Craters of the Moon. Hundreds of pioneers travelled through the area on the Goodale's Cutoff section of the Oregon trail in the 1850's and 1860's. More...