Stage 1 Fire Restrictions in Effect

To ensure public safety and to provide the highest degree of protection to park resources, restrictions on campfires, smoking, and fireworks are in effect. More »
Vehicle-Free Days on East Rim Drive

The park will host two vehicle-free days on East Rim Drive, September 20 and 27, 2014. Although East Rim Drive will be closed for these events, all other roads through the park will remain open to vehicular traffic. More »
Vehicle Free Days on East Rim Drive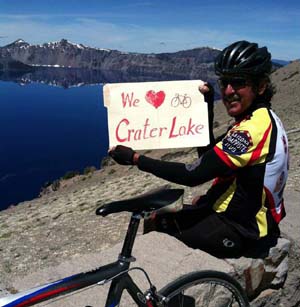 The park will host two vehicle-free days on East Rim Drive, September 20 and 27, 2014. This will be a perfect opportunity for park visitors to hike and bike on 24 miles of road without cars and enjoy spectacular views of America's deepest lake and surrounding forests.
Weather in September can be beautiful and sunny, but mornings and evenings are cool. The park usually gets some snow in September, but it generally melts off on the first sunny day. Check out our Current Conditions page for the latest forecast and weather as the weekends approach.
The road is not flat. At times there are steep grades to climb. Check out our brochure on Bicycling at Crater Lake for more information. The part of the road closed for this event will be from North Junction to Park Headquarters. The elevation ranges between 6450 feet and 7050 feet on this section. Click here for a map!
The entrance fee into the park is $10 per vehicle or $5 per person ($10 per family) if walking or bicycling into the park. There is no additional fee to participate in the event. Once you arrive at the park, information will be available at the North and South Entrance Stations and the park's two visitor information centers, one at Rim Village and the other at Park Headquarters.
Check back here for updates!
For information on lodging and camping in and around the park, check out our lodging and camping brochure.
Although East Rim Drive will be closed on the last two Saturdays in September for this event, the North Entrance Road, West Rim Drive, Munson Valley Road and Highway 62 through the park will remain open for vehicular traffic.
Did You Know?

William Gladstone Steel worked for 17 years to convince Congress that a national park should be created to protect Crater Lake. He finally succeeded and the park was authorized on May 22, 1902.