Vehicle-Free Days on East Rim Drive

The park will host two vehicle-free days on East Rim Drive, September 20 and 27, 2014. Although East Rim Drive will be closed for these events, all other roads through the park will remain open to vehicular traffic. More »
Lost Creek Campground CLOSED Nights of 9/19 and 9/26

Lost Creek Campground will be CLOSED from 3:00 PM Friday, 9/19 until 5:00 PM Saturday, 9/20 because of the temporary road closure to vehicles on East Rim Drive. It will also be CLOSED from 3:00 PM Friday, 9/26 until 5:00 PM Saturday, 9/27.
Stage 1 Fire Restrictions in Effect

To ensure public safety and to provide the highest degree of protection to park resources, restrictions on campfires, smoking, and fireworks are in effect. More »
Underwater exploration in Crater Lake
NPS
Scientists and biologists spent 20 days at Crater Lake during the summer of 1987 studying the chemistry, biology, hydrology, and geology of the bottom of the lake. The research group used various instruments including the rover vehicle pictured to the left.
Their findings are reported in this document, "Studies of Hydrothermal Processes in Crater Lake, OR" by Collier, Dymond, and McManus.
Diving and exploring in Crater Lake.  A short video excerpted from the video "Crater Lake  Into the Deep".

Duration:

7 seconds

Credit/ Author:

NPS

Date created:

2014-04-23
The Aquatic Moss of Crater Lake

A video description of the amazing, 1000 years old moss living in Crater Lake Read More

Monitoring of Crater Lake

View this page to find detailed information on the environmental monitoring of Crater Lake and the springs and seeps that flow into Crater Lake. Read More
Did You Know?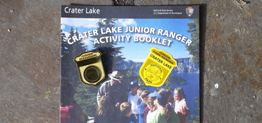 Kids can earn their Junior Ranger badge year round. Stop in the Steel Visitor Center to pick up the activity booklet and more information.