Nature & Science
NPS
Crater Lake National Park is an area of 249 square miles dedicated to the preservation of its natural and cultural resources. For many years, park managers have looked at this task as a job to be accomplished only for the enjoyment of its human visitors. As important as this goal remains to be, park personnel now take a more comprehensive view of the ecosystems and interactions within the environment we call Crater Lake National Park.
Enabling legislation for Crater Lake National Park, set forth in 1902, mandates that this area be "dedicated and set apart forever as a public (park) or pleasure ground for the benefit of the people of the United States." (32 Stat. 202) This important law allows for the unfettered access to this unique area. In subsequent legislation, including the Organic Act which established the National Park Service, emphasis was placed on the management of natural areas in order to provide for preservation and protection. This law allows park resources to be managed so that they may remain unimpaired and in a natural state for future generations.
While Crater Lake is considered the primary scenic wonder at Crater Lake National Park, management of all the natural resources of the park is given equal weight. As no forest is independent from the streams that run through it or the geologic history which has given rise to its different kinds of soil, ecosystems are dynamic parts of the whole which function according to their inputs and outputs. For example, if down wood is removed from park streams, a major source of habitat for insects has been taken away. In turn, fish will suffer from the loss of a significant food source. In the end, it is not only the fisherman who will ache for their catch of yesteryear, but the bear, eagle, and other fish-catching animals will suffer even more.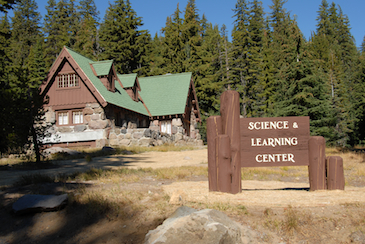 NPS
The Crater Lake Science and Learning Center is a partnership between regional universities and the National Park Service. The Science and Learning Center works to bring researchers and artists to Crater Lake National Park to better understand and explore its resources. The Science and Learning Center, working with partners, also brings many school children to Crater Lake every fall and spring to experience the Classroom at Crater Lake. To learn more, click on
Crater Lake Science and Learning Center
.


Did You Know?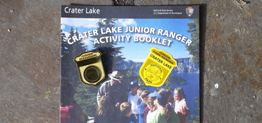 Kids can earn their Junior Ranger badge year round. Stop in the Steel Visitor Center to pick up the activity booklet and more information.