Fish Passage Barriers in Sun Creek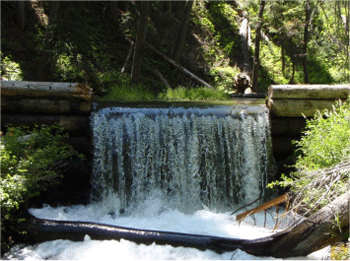 NPS
The Barrier "Tradeoff" in Native Fish Management
Stream fish naturally move. They travel upstream and downstream between feeding and spawning areas, disperse to new habitats, and recolonize areas after disturbances such as flood or wildfire. Biologists believe such movement is important to the resilience of native fish because it allows genetic exchange among population groups and decreases the risk of local extinction. When native fish are threatened by invasion of nonnative competitors, however, biologists face a trade-off: fish barriers such as small dams can stop nonnatives from moving upstream, but those barriers also may isolate and limit movement of the native fish they are intended to protect.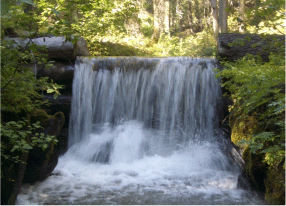 NPS
Barriers to Protect Bull Trout in Sun Creek
Crater Lake National Park is using fish barriers to protect a recovering population of native Bull Trout. In 1992, the park installed two log and rock dams in Sun Creek to prevent upstream invasion of nonnative Brook Trout, which compete and hybridize with Bull Trout. Biologists weighed the risks of isolating and restricting Sun Creek Bull Trout against the benefits of excluding Brook Trout, and determined barriers were necessary because competition with nonnatives had pushed Bull Trout in the stream to near extinction. Now as the native trout population grows, park biologists continue to monitor and assess the Sun Creek fish barriers to determine whether their benefits outweigh their risks.