May 21 Closures and Delays

The Loop Road will be closed periodically to vehicular traffic today while the contractor applies striping. Some overlooks will be closed for sealing. Expect delays entering and exiting the park where sealant is being applied to one lane.
Plan Your Visit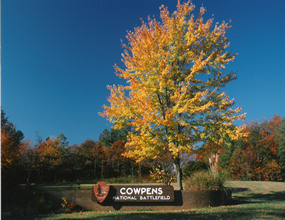 Robert Hooper for Cowpens National Battlefield
Cowpens National Battlefield is a Revolutionary War battle site that commemorates the victory of Brigadier General Daniel Morgan over his dreaded foe, Lieutenant Colonel Banastre Tarleton, in the cause for American Independence. It was an important link in a chain of events that ultimately led to the defeat and surrender of the British commander Lord Earl Cornwallis at Yorktown, Virginia, in October 1781. The battlefield is a unit of the National Park System, a bureau of the United States Department of the Interior.
The 845-acre park is open daily from 9:00 a.m. - 5:00 p.m., and closed Thanksgiving Day, Christmas Day and New Year's Day. There is a Visitor Center, battlefield, trail, auto loop road around the perimeter of the battlefield, and a picnic area with a covered shelter.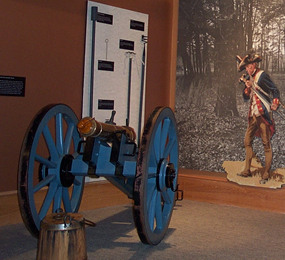 Available Resources and Facilities


VisitorCenter:
Museum contains a reproduction 3-pounder cannon, other weapons of the Revolutionary War period, and exhibits.

"Cowpens: A Battle Remembered" is a laser disk presentation show hourly in the museum. The 18 minute show was filmed offsite in 2006 and depicts the events of the battle.


Fiber-optic Map Display illustrates the Southern Campaign of the American Revolution and the battle tactics employed by Daniel Morgan at Cowpens. (13 minutes)
Sales Outlet operated by Eastern National offers books, posters, postcards, slides, and theme-related souvenirs for purchase.
Battlefield Trail:
The partially paved 1.2 mile trail includes wayside exhibits, the 1856 Washington Light Infantry Monument and the historic Green River Road that both armies used to get to the Cow Pens. (45 minutes)
Auto Loop Road:
The 3.8 mile 1-way road travels the perimeter of the battlefield and includes wayside exhibits, parking areas with short trails to the Green River Road, the circa 1828 Robert Scruggs Log House, and access to the picnic area. The loop road closes at 4:30 pm.
Picnic Area:
Located 1 1/2 miles down the tour road, the area provided picnic tables, grills, and restroom facilities. A covered picnic shelter is available to groups through a special use permit for a small fee. Contact the staff at the Visitor Center for information on the permit. The loop road and picnic area close at 4:30 pm.


Did You Know?

Of the 11 medals awarded to veterans of the American Revolution, three of them were awarded for the Battle of Cowpens: Daniel Morgan, John Eager Howard, and William Washington.