Trail Conditions

Trails have been adversely impacted by an active flood season and winter ice storms. They are littered with debris and many markers are missing. All hikers should use a compass and map when hiking in the park. A trail marking project is underway. More »
Paddling Conditions

Numerous portages exist along Cedar Creek. Please plan accordingly when preparing to paddle in the park and be sure you are prepared for a safe trip.
Plan Your Visit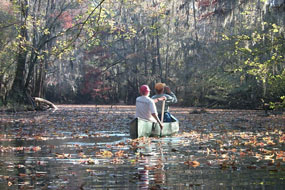 NPS Photo
You have the opportunity to experience the natural wonders of Congaree National Park on foot or on water. With over 25 miles of hiking trails and 2.4 miles of boardwalk, there are many ways to explore the Congaree Wilderness. The boardwalk loop trail provides access to Weston Lake and other trails that wind through the Congaree floodplain. Ranger and volunteer guided programs are led on Saturdays year-round. Call the park for more information.
A marked canoe trail invites you to explore Cedar Creek. Bring your own canoe and personal flotation devices. Canoes and kayaks may be rented in the Columbia, SC area. Before canoeing ask the park staff about current water levels and conditions since low water or flooding is a possibility. Motorized vehicles and water craft are prohibited in the Congaree wilderness.


Did You Know?

There are many natural lakes called "Oxbows" within Congaree National Park, which used to be bends in the Congaree River. Some formed thousands of years ago.