Park Trail Conditions

Recent storms left damage on all park trails. Portions of the elevated boardwalk are currently closed. The lower boardwalk is open. Expect downed trees and debris on all trails and in Cedar Creek. Be prepared when hiking and canoeing.
Plan Your Visit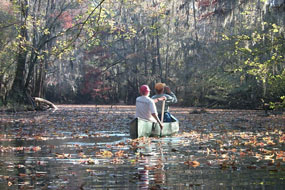 NPS Photo
You have the opportunity to experience the natural wonders of Congaree National Park on foot or by canoe. With over 25 miles of hiking trails and 2.4 miles of boardwalk, there are many ways to explore the Congaree Wilderness. The boardwalk loop trail provides wheelchair access to Weston Lake and foot access to other trails that wind through the Congaree floodplain forest. Colored markers make the trails easy to follow. Guided walks and a limited number of canoe trips are offered free of charge. Call the park for more information.
A marked canoe trail invites you to explore Cedar Creek. Bring your own canoe and personal flotation devices. Canoes and kayaks may be rented in the Columbia, SC area. Before canoeing ask the park staff about current water levels and conditions since low water or flooding is a possibility. Motorized vehicles and water craft are prohibited.


Did You Know?

Congaree National Park hosts the Old-Growth Bottomland Forest Research and Education Center. Research Learning Centers function as scientific laboratories and research libraries that enhance learning opportunities within our National Parks.