Longleaf Campground Closure Sept. 2-3

The Longleaf Campground will be closed from 10:00 am Tuesday, September 2 - 10:00 am Wednesday, September 3. The closure will allow for exotic plant removal.
Trail Conditions

A trail marking project is underway to identify trails with numbers instead of colored blazes. All hikers should use a compass and map when hiking in the park. More »
Plan Your Visit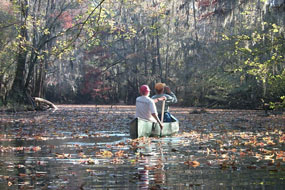 NPS Photo
You have the opportunity to experience the natural wonders of Congaree National Park on foot or on water. With over 25 miles of hiking trails and 2.4 miles of boardwalk, there are many ways to explore the Congaree Wilderness. The boardwalk loop trail provides access to Weston Lake and other trails that wind through the Congaree floodplain. Ranger and volunteer guided programs are led on Saturdays year-round. Call the park for more information.
A marked canoe trail invites you to explore Cedar Creek. Bring your own canoe and personal flotation devices. Canoes and kayaks may be rented in the Columbia, SC area. Before canoeing ask the park staff about current water levels and conditions since low water or flooding is a possibility. Motorized vehicles and water craft are prohibited in the Congaree wilderness.


Did You Know?

The Harry Hampton Visitor Center is the first national park visitor center built in partnership with Army and Air Force National Guard civil engineering units, the South Carolina Richland County Delegation, Richland County and Columbia's River Alliance.