Things To Do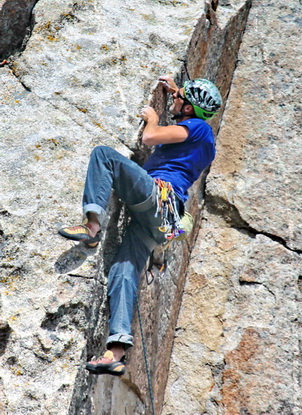 Wallace Keck
Climbing
Popular since the 1970's, City of Rocks granite is internationally renowned among climbers. There are over 600 routes here, both traditional and sport. Climbs vary from 30-600 feet, rating from the relatively easy 5.6 to the extremely difficult 5.14. A number of guidebooks to both City of Rocks and Castle Rocks are available at the visitor center.
Climbing is managed, and a permit is required before placing permanent anchors. Otherwise, visitors are free to climb established routes, or just scramble around. Be aware of private lands within the Reserve as well as rock closures along the California Trail. Some rocks and routes are closed seasonally for nesting raptors.
Are you new to climbing or want to give it a try? Consider our Climbing Experience Program - all equipment provided. The Program offers beginners an opportunity to try rock climbing in a safe setting. Trained employees set up easy routes for the novice climber to get a feel for the rock. Participants will be exposed to concepts, techniques,and equipment that becomes an excellent introduction to the sport of climbing. Call the visitor center at 208-824-5901 for rates and reservations.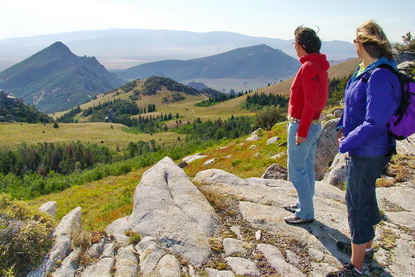 Wallace Keck
Hiking
Over 22 miles of hiking trails traverse City of Rocks National Reserve, leading to arches, windows, and dramatic overlooks. Trails vary from easy to steep and strenuous. Short walks to all-day hikes deep into the backcountry are available, and trail maps can be acquired at the visitor center. We recommend these short, relatively easy hikes:
Window Arch Trail, 300 feet, one way
Bath Rock Trail, 1,800 feet loop
Creekside Towers Trail, 0.6 miles one way
If you have more than an hour, or want to leave the crowds, we recommend these longer, more difficult trails:
Geological Interpretive Trail, 1.2-mile loop
Flaming Rock Trail, 0.76 miles, strenuous loop
North Fork Circle Creek, 6.3 miles between trailheads
Castle Rocks State Park offers supurb hiking to rock formations, wetlands, cottonwood groves, pictographs, homesites, and grand views, as well as access to BLM public lands and the Sawtooth National Forest. We recommend these trails:
Backyard Boulders Trail, 2-mile loop
Castle Rocks Trail, 5-mile loop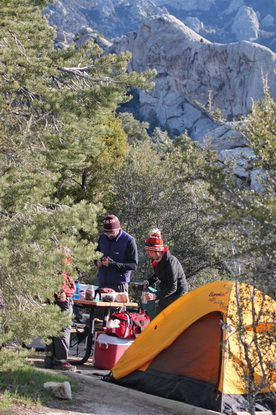 Wallace Keck
Camping
Camping is highly popular between April and November, and reservations are recommended on most weekends, holidays, and even weekdays in June. City of Rocks offers 64 campsites, many tucked in among the granite fins and boulders. Several sites are shaded by aspen, juniper, mountain mahogany and pine.
All sites have a ground grill/fire-ring and picnic table, and many have defined tent pads. Clean vault toilets are located in central areas, and drinking water (April-October) is available at Bath Rock and Emery Pass Picnic Area. Campsite fee is $12.72 per night. Group Campsites for 12-25 people are also available.
Nearby Castle Rocks State Park (Smoky Mountain Campground) provides 38 campsites with water and 30 amp electric hook-ups; long, pave parking pads of which 9 are pull-through. Six sites on a separate loop accomodate equestrian campers. This facility also has flush toilets and showers. Campsite fee is $23.32 per night.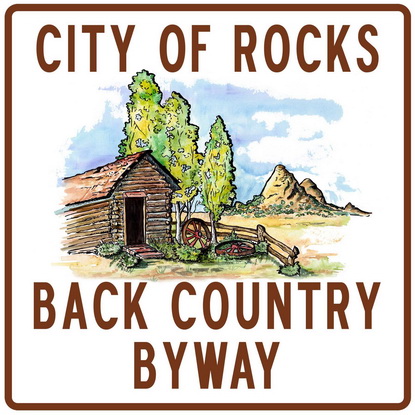 Idaho Transportation Department
Auto Touring
More popular than climbing, auto touring is one of the best ways to enjoy City of Rocks. The journey technically begins in Albion - the starting point for the 49-mile City of Rocks Back Country Byway, or checkout our auto tour guide just for City of Rocks. Upon reaching Almo, be sure and stop at the City of Rocks/Castle Rocks visitor center for maps, information, and to watch the 8-minute orientation video that provide a great overview of City of Rocks geology, history, and things to do. The visitor center also offers books, apparel, and souvenirs.
Near the east entrance to the Reserve, drive up the narrow-winding road to the Circle Creek Overlook (elevation 6,120). On a clear day, you can see the Bear River Mountains over 100 miles away! The Geological Interpretive Trail begins at the overlook parking area.
Auto tourists should also plan a stop at Camp Rock or Register Rock to view the many signatures in axle-grease, left by California-bound emigrants (1843-1882). Follow the California National Historic Trail for interpretive exhibits on Pinnacle Pass, Twin Sisters, City of Rocks Stage Station, and views to the famed Granite Pass.
If your interest is scenery and geology, continue on the City of Rocks Road. Watch for climbers on Elephant Rock, Bath Rock, and at the Morning Glory Spire viewpoint. Plan a picnic in the shade of aspens and the Bread Loaves monolith at the Emery Pass Picnic Area. The byway continues another 15 miles down Emery Canyon and Birch Creek Canyon to the historic town of Oakley.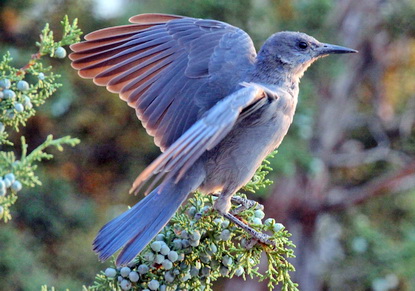 Wallace Keck
Birding
Idaho Birders know that City of Rocks, Castle Rocks, and the Almo Valley are some of the best locations in the state for observing Pinyon Jay, Virginia's Warbler, Gray Flycatcher, Juniper Titmouse, Bushtit, Greater Sage-Grouse, Black-throated Gray Warbler, and Plumbeous Vireo. Over 150 bird species have been documented in the checklist area, and over 100 species have been counted in a single day!
Idaho's State Bird (Mountain Bluebird) is here, as well as nesting Golden Eagles, Ferruginous Hawk, Burrowing Owl, Canyon Wren, Green-tailed Towhee, Lesser Goldfinch, and many more that are recorded on the Checklist of Birds.
City of Rocks exhibits many habitats that contributes to a diversity of birds. In just a short hike or drive one can easily encounter sagebrush steppe, pinyon-juniper woodlands, willow-choked streams, rocky canyons, aspen forest, mahogany woodlands, sub alpine fir, and alpine ridges. Just about anywhere in the Reserve and State Park can be good birding, but check out these hotspots: Parking Lot Rock, Stines Creek Picnic Area, Almo Creek Wetlands, and Smoky Mountain Campground.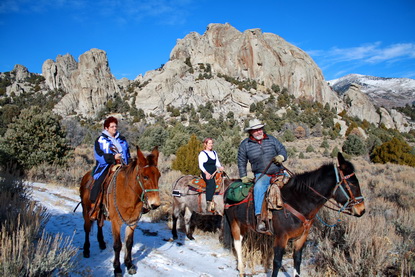 Wallace Keck
Horseback Riding
Horseback riding can be one of the best ways to experience much of the Reserve's backcountry. Often you can see more wildlife, explore steep rugged country, and more quickly escape the crowds. City of Rocks equestrian trails take you deep into the heart of the North Fork Circle Creek country, Indian Grove, and even 8,867-foot Graham Peak.
Horse trailer parking is currently permitted near Register Rock and at Bread Loaves. The equestrian day-use parking area and trailhead at Smoky Mountain is the best facility, and the California Trail leads into the Reserve.
(under construction 7/22/14)


Did You Know?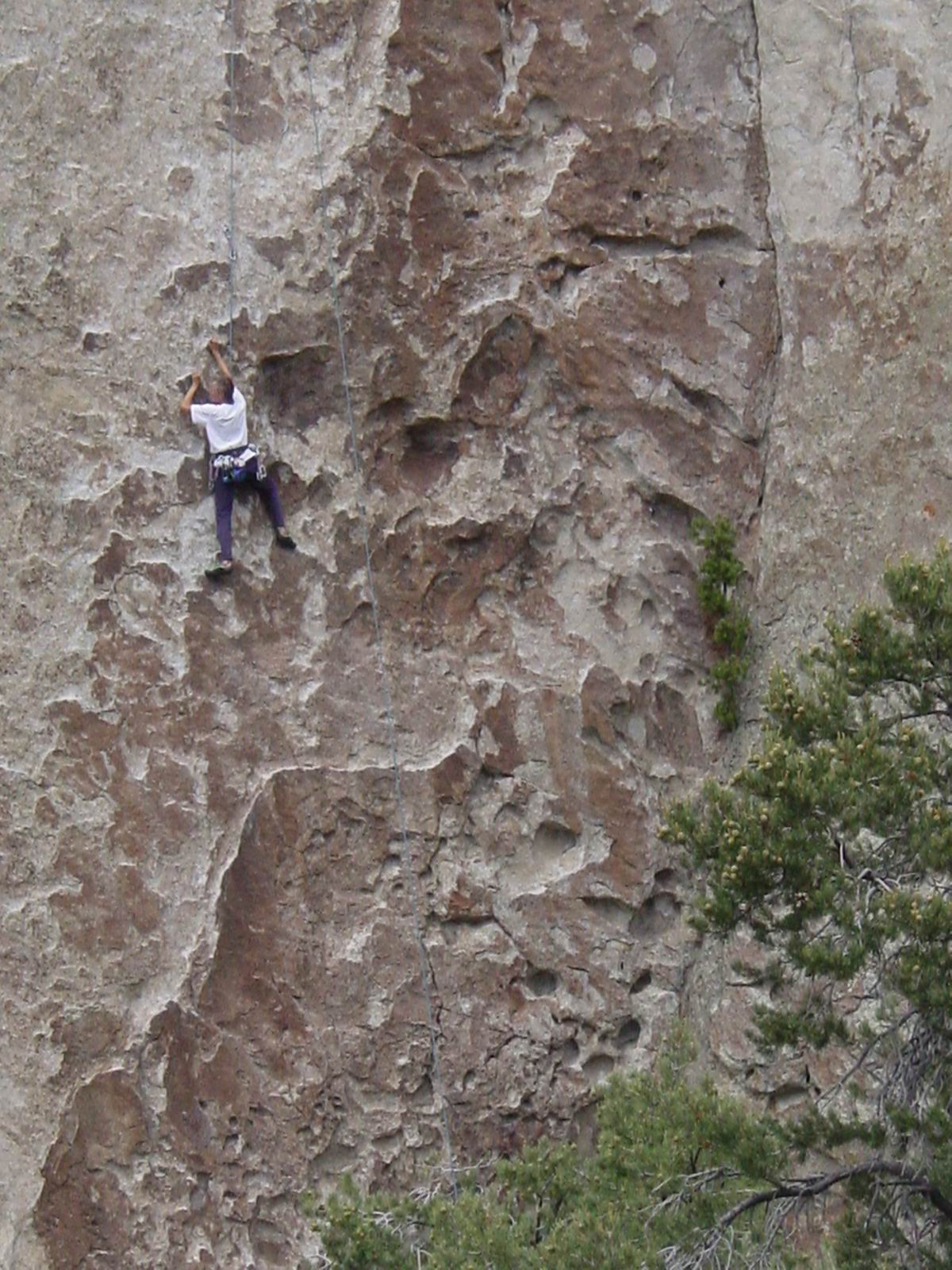 City of Rocks National Reserve is a North American favorite for technical rock climbers. Climbers come from around the world to climb a variety of routes from 5.0 (least difficult) to 5.13 (most difficult).