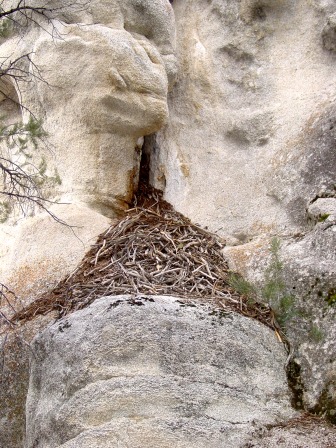 nps photo
Pack Rat Midden
Pack rats, abundant in City of Rocks, collect vegetation from a range of about 50 meters in diameter, to create their nests. All water consumed by pack rats comes from the vegetation and results in a fairly viscous amber colored urine. The remaining liquid in the urine, excreted in the nest, evaporates and encases collected vegetation into hard midden.
A sample from this midden is currently under study by a team from the University of Arizona and the U.S. Geological Survey, headed by Dr. Julio Betancourt. Dr. Betancourt believes this sample to be about 10,000 years old. This research is to determine what the climate was like in the past and how it has changed over time.
Because middens are abandoned after a short period of time, they are uncontaminated "time capsules" of several decades of natural life, centuries, and millenia after they have occurred.
_________________________________________________________________________________