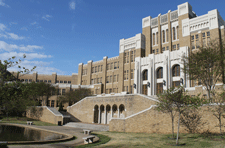 NPS Photo
Established as a unit of the National Park Service (NPS) in 1998, Little Rock Central High School National Historic Site serves to preserve and interpret the people, stories, and events associated with the 1957-1959 efforts to desegregate the previously all-white high school. The site also preserves the historic resources and cultural landscape that served as the backdrop for the desegregation crisis.
Enabling Legislation
Public Law 105-356-NOV. 6, 1998
----Little Rock Central High School National Historic Site serves to preserve, protect, and interpret for the benefit, education, and inspiration of present and future generations, Central High School in Little Rock, Arkansas, and its role in the integration of public schools and the development of the Civil Rights movement in the United States.
Superintendent's Compendium

The Superintendent's Compendium of Designations, Closures, Permit Requirements and Other Restrictions Imposed Under Discretionary Authority can be viewed here.
Firearms Policy
As of February 22, 2010, a new federal law allows people who can legally possess firearms under applicable federal, state, and local laws, to legally possess firearms in this park.
It is the responsibility of visitors to understand and comply with all applicable state, local, and federal firearms laws before entering this park. As a starting point, please visit our state's website for more information regarding state regulations.
Federal law also prohibits firearms in certain facilities in this park; those places are marked with signs at all public entrances. At Little Rock Central High School National Historic Site, firearms are not permitted in the visitor center or education center (located in the historic Mobil service station.) In addition, Little Rock Central High School is an operating, four-year public school within the boundary of the park. State law prohibits firearms in "any school, college, community college, or university campus building or event, unless for the purpose of participating in an authorized firearms-related activity."