Channel Islands National Park provides a delightful break from the congestion and clamor of urban life. The islands are ideal for quiet, uninterrupted time with family and friends-wonderful places to hike, camp, snorkel, kayak, birdwatch, take photographs, sketch, or just relax to the soothing sounds of the natural world.
However, since the park encompasses five islands and their surrounding one mile of the ocean, the decision of where to go and what to do can be challenging. So compiled below is a list of park highlights that we feel should not be missed.
For more suggestions, please visit Places To Go, Outdoor Activities, and Guided Tours.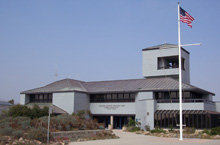 Tim Hauf
Visitor Center
The Robert J. Lagomarsino Visitor Center at Channel Islands National Park in Ventura features a bookstore, exhibits, native plant garden, and park movie. The fully accessible visitor center is open 8:30 am until 5:00 pm daily; closed on Thanksgiving and December 25th.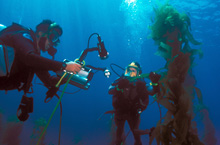 Bill Kendig
Channel Islands Live
If you can't visit the islands, then take a virtual visit to the Channel Islands through live, interactive broadcasts and webcams (including the popular Bald Eagle Webcam) that highlight the remarkable natural and cultural resources of the islands and their surrounding waters.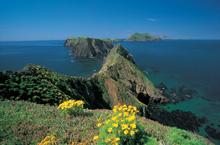 Tim Hauf
Inspiration Point, Anacapa Island
Even on a foggy day, this is one of the best views in the park...and appropriately named. Island Packers runs full-day and half-day trips to Anacapa Island throughout the year.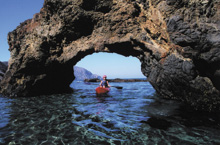 Chuck Grahm
Snorkeling | Diving | Kayaking
After an island hike, there is no better way to cool off then to snorkel, dive, or kayak in the Landing Cove on Anacapa Island or at Scorpion Anchorage on Santa Cruz Island. The water can be clear and calm anytime of year, but don't forget your wetsuit.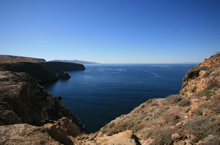 Tim Hauf
Cavern Point, Santa Cruz Island
A hike to Cavern Point not only rewards you with great views, but on the way you can stop off at the visitor center in the historic ranch house and then end your trip with a snorkel in Scorpion Anchorage. Island Packers runs full-day and half-day trips to Santa Cruz Island throughout the year.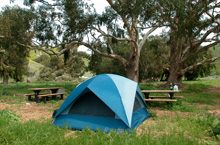 Kathy deWet-Oleson
Camping, Santa Cruz Island
Although all the islands have great campgrounds, Scorpion Ranch Campground on Santa Cruz Island is the most convenient and provides the most recreational opportunities-from hiking to snorkeling to kayaking to guided interpretive programs.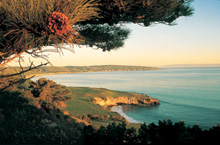 Tim Hauf
Torrey Pines, Santa Rosa Island
It's a little harder to get to but well worth the effort. See one of the rarest trees in the world while admiring the view of Bechers Bay. Channel Islands Aviation flies year round to Santa Rosa Island. Island Packers runs trips spring through fall.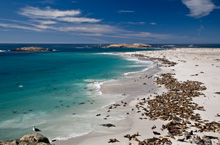 Tim Hauf
Point Bennett, San Miguel Island
Definitely hard to get to (4-hour boat ride- summer through fall only; 16-mile round-trip hike) but you will not be disappointed. Here you can view one of the largest concentrations of wildlife in the world with over 30,000 seals and sea lions and up to five different species.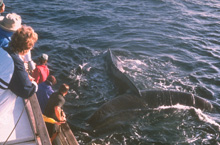 NPS
Whale Watching
Over 30 different marine mammal species call the Santa Barbara Channel home, including gray whales, elephant seals, common dolphins, and California sea lions. While some species can be viewed from a distance on the island, Island Packers offers trips year round that allow for closer viewing.

If time is a limiting factor in your visit, consider the following suggestions:
One Hour
Stop by one of our visitor centers in Ventura or Santa Barbara. More...
Half Day
Take a half-day non-landing boat tour around Anacapa or a half-day, express boat trip to Anacapa or Santa Cruz Islands via Island Packers. During gray whale season (December through April), take a half-day whale watch trip out of Ventura, Oxnard, or Santa Barbara Harbors.
Full Day
Take a day trip to any of the park islands via our park concessionaires. During blue whale season (Spring through Summer), take an all day whale watch trip out of Ventura or Santa Barbara Harbors.
Multiple Days
Camp on any of our park islands or take a multi-day, multi-island, live-aboard boat trip with Truth Aquatics.