Santa Barbara Island Closed Due to Storm Damage

Santa Barbara Island is currently closed to public access due to damage from the high surf associated with Hurricane Marie. More »
San Miguel Island Closure

In the interest of public safety, the U.S. Navy is closing San Miguel Island until further notice due to recent concerns of possible unexploded ordnance. More »
Island Transportation
While the mainland visitor centers in Ventura and Santa Barbara are readily accessible by car or public transportation, the islands are only accessible by park concessionaire boats and planes or private boat. Advanced planning is highly recommended.
There is no transportation available on the islands. All areas must be accessed on foot or by private boat or kayak.
Public Boat Transportation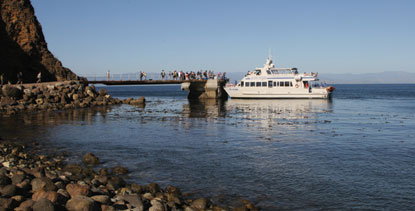 Public boat transportation is available year-round by the park concessionaire Island Packers. In addition, Island Packers offers whale watching trips.
For departures out of Ventura and Channel Islands (Oxnard) Harbors contact:
Island Packers
1691 Spinnaker Dr.
Ventura, CA 93001

(805) 642-1393

www.islandpackers.com

Click here for driving directions to Island Packers.
Public Airplane Transportation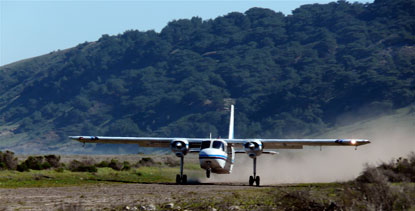 Public airplane transportation is available year-round to Santa Rosa Island by park concessionaire Channel Islands Aviation. Flights depart from Camarillo airport. For departures contact:
Channel Islands Aviation
305 Durley Avenue
Camarillo, CA 93010

(805) 987-1301

www.flycia.com

Click here for driving directions to Channel Islands Aviation.
Visit YouTube for an island flight overview.
Private Boat Transportation
Private boaters may land on all five islands within the park throughout the year. More
Private Airplane Transportation
Private aircraft may not land within park boundaries. All aircraft must maintain a minimum 1000-foot altitude above land and sea surfaces within the park. However, FAA regulations state that pilots are requested to maintain a minimum of 2,000 feet above ground level over national park. More...


Did You Know?

Park and sanctuary waters are home to the largest aggregation of blue whales in the world. Approximately 10% of the global blue whale population gathers in the channel during the summer. More...