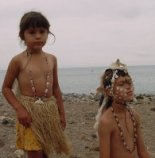 Channel Islands National Park
Navigation, Trade, and the Tomol
These earliest inhabitants exploited the rich marine resources. Isolated from the mainland, they navigated between the islands and back and forth to the mainland using tomols. A plank canoe constructed from redwood logs that floated down the coast and held together by yop, a glue-like substance made from pine pitch and asphaltum, and cords made of plant materials and animal sinews, the tomol ranged from eight to thirty feet in length and held three to ten people. Sharkskin was used for sanding, red ochre for staining, and abalone for inlay and embellishment.
The use of the tomol allowed for an elaborate trade network between the islands and mainland, between natives and non-natives, and amongst the island communities themselves. 'Achum, or shell bead money was "minted" by the island Chumash using small discs shaped from olivella shells and drills manufactured from Santa Cruz Island chert. The shell bead money was exchanged with mainland villages for resources and manufactured goods that were otherwise unavailable on the islands.
Today, the Chumash Maritime Association, in partnership with Channel Islands National Marine Sanctuary and Channel Islands National Park, continues the tradition of the tomol by conducting Channel crossings. Learn more about the Chumash Tomol Crossing.
Missionization
By the time European explorers arrived in the Santa Barbara Channel, there were some 21 villages on the three largest islands of San Miguel, Santa Rosa and Santa Cruz, with highly developed social hierarchies that featured an upper class of chiefs, shamans, boat builders, and artisans, a middle class of workers, fisherman, and hunters, and a lower class of the poor and outcast. Because of the scarcity of fresh water, Anacapa and Santa Barbara islands did not support permanent habitation.
Juan Rodriguez Cabrillo was impressed by the friendliness of the Chumash people he encountered. However, diseases introduced by the European explorers began a decline in the native population. As European colonists began to settle along the coast, introducing new economic enterprises, exploiting the marine resources, and establishing Catholic missions, the native food sources were depleted, native economies were altered, and island populations declined even further. By the 1820s, the last of the island Chumash had moved to the mainland, many of them to the Missions at Santa Ynez, San Buenaventura, and Santa Barbara.
The mission system depended on the use of native labor to propel industry and the economy. The social organization of Chumash society was restructured, leading to the erosion of previous power bases and further assimilation. When California became part of Mexico, the government secularized the missions, and the Chumash sank into the depths of poverty. By the time of the California gold rush, the Chumash had become marginalized, and little was done to understand or help the remaining population.