Visitor Center Fall Hours in Effect Beginning October 13, 2014

Fall hours are in effect for the visitor center from October 13 - November 30, 2014 from 8:30 am - 4:30 pm. The hikers' shuttle will leave the visitor center at 9 am. For more information call 520-824-3560 x0. More »
Mushroom Rock Trail Closed to Horses, Hikers Use Caution

Mushroom Rock Trail is closed to horses due to hazardous conditions caused by recent flooding. Hikers use caution. Trail is washed out in place and may be difficult to follow.
Operating Hours & Seasons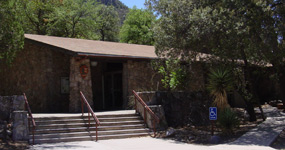 NPS
Chiricahua National Monument is open all year. Visitor center fall hours, October 13 - November 30, 2014, are 8:30 am to 4:30 pm Mountain Standard Time. Remember most of Arizona does not use Daylight Savings Time. Sometimes the scenic drive will be closed beyond the campground due to snow, ice, or fallen rocks.


Did You Know?

The first settlers to live in Bonita Canyon were Ja Hu Stafford and his wife Pauline. They originally built a one-room, log cabin in 1880, which grew with his family. You can still see the cabin today at Chiricahua National Monument.