Visitor Center Summer Hours in Effect Beginning May 1, 2014

Summer hours are in effect for the visitor center from May 1 - October 12, 2014 from 8:30 am - 4:30 pm. The hikers' shuttle will leave the visitor center at 9 am. For more information call 520-824-3560 0. More »
Entrance and Camping Fees Waived this Summer

From June 1 through September 30, all entrance fees will be waived and federal lands passes will not be available for purchase at the park. More »
Mushroom Rock Trail Closed to Horses, Hikers Use Caution

Mushroom Rock Trail is closed to horses due to hazardous conditions caused by recent flooding. Hikers use caution. Trail is washed out in place and may be difficult to follow.
Operating Hours & Seasons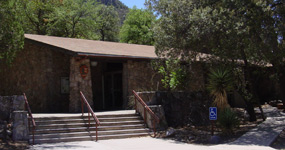 NPS
Chiricahua National Monument is open all year. Visitor center summer hours, May 1 - October 12, 2014, are 8:30 am to 4:30 pm Mountain Standard Time. Remember most of Arizona does not use Daylight Savings Time. Sometimes the scenic drive will be closed beyond the campground due to snow, ice, or fallen rocks.


Did You Know?

The rock formations at Chiricahua National Monument were carved by ice and water from layers of rhyolite, which was originally ash blown out during the Turkey Creek Volcano eruption 27 million years ago.