Visitor Center Fall Hours in Effect Beginning October 13, 2014

Fall hours are in effect for the visitor center from October 13 - November 30, 2014 from 8:30 am - 4:30 pm. The hikers' shuttle will leave the visitor center at 9 am. For more information call 520-824-3560 x0. More »
Mushroom Rock Trail Closed to Horses, Hikers Use Caution

Mushroom Rock Trail is closed to horses due to hazardous conditions caused by recent flooding. Hikers use caution. Trail is washed out in place and may be difficult to follow.
Bonita Canyon Campground
Camping Regulations
To enhance your enjoyment and assist in protecting Chiricahua National Monument, please read and comply with all campground regulations.
Maximum RV/motorhome or trailer length is 29 feet, actual measurements.
Fee is $12 per night; Interagency Senior/Golden Age and Access pass owners pay $6. Accepted Payment: Cash; Personal Check written to Chiricahua National Monument/NPS; Discover, Visa, or MasterCard credit cards.

Site #8 is designed for people with disabilities, but open to anyone for one night if it is the last available site.
Campsite stay is limited to seven consecutive days.
Check out time is 11:00 am. If staying another night re-register by 11:00 am.
Campsite capacity is limited to eight people and two vehicles (where space is available) and unless otherwise designated or upon approval from a park ranger or campground host, a maximum of two tents per site. Use tent pads when setting up tents.
Quiet hours are from 8:00 pm to 8:00 pm.

Sites may not be left unattended for over 24 hours.
Utility hook-ups are not provided and connection to water, sewer, or electrical outlets is prohibited.
Food Storage Regulations
KEEP A CLEAN CAMP!
When not in immediate use, all food, cooking appliances, utensils, storage containers (empty or full), and pet items, that may attract or provide a reward to wildlife, must be kept in a closed hard-sided vehicle, day or night. This includes coolers and beverage containers regardless of use or content.
Campers without vehicles must secure items in available food lockers.
Do not burn waste in fire rings or leave litter around your camp.
Garbage must be properly stored at all times. Use bearproof trash cans.
Camping in Bear and Mountain Lion Country
Do not approach bears, mountain lions, or other wild animals. They are dangerous!
In their pursuit of food sources, black bears will be attracted to improperly stored food. Follow National Park Service food storage regulations listed under Food Storage Regulations.
Closely supervise children whenever they are outdoors, even in developed areas.
Unattended pets may attract a lion and result in the loss of your pet.
Report all bear and mountain lion sightings or encounters to the nearest ranger, campground host, or visitor center.
Violation of park regulations will likely result in the issuance of a violation notice! Feeding wildlife is prohibited. Human food is harmful to all wildlife.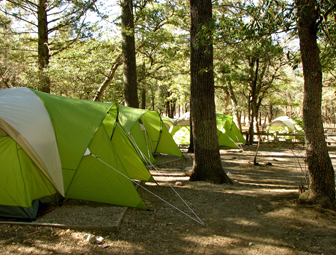 Group Campsite
The g
roup site is for groups of 9 to 24 people with a maximum of 8 tents. Trailers and RVs are prohibited in the group campsite. Fee for the group campsite is $3/person/night with no more than 5 vehicles.
You may reserve the group site by calling 520-824-3560 x0.
Did You Know?

The first settlers to live in Bonita Canyon were Ja Hu Stafford and his wife Pauline. They originally built a one-room, log cabin in 1880, which grew with his family. You can still see the cabin today at Chiricahua National Monument.