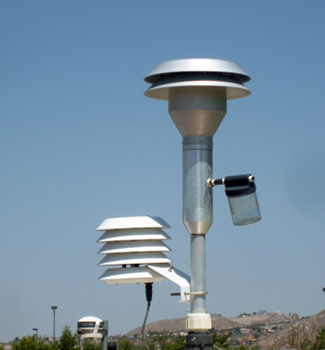 NPS
How is this data useful?
The data collected here at the Chamizal site has been, and continues to be, used to provide the public with the most up-to-date information on air pollution. This information helps to characterize the nature and extent of air pollution, determine trends in pollution concentration levels, and supports compliance with the National Ambient Air Quality Standards (NAAQS). The site also gathers information that enhances studies on air pollution's impacts on human health and the health of our environment and ecosystems, as well as assesses emissions and pollutants reduction strategies and programs.
Chamizal isn't the only National Park site to partner with TCEQ. Big Bend National Park also houses a station, the IMPROVE air monitoring site. There, TCEQ collects continuous filter-based particulate samples and meteorological data.
Data collected from the sites are available to the public. Most of the continuous data may be found online and is updated hourly. Non-continuously collected data, or data that must first be analyzed in a laboratory, is updated online after review and verification. Information about the site, the monitoring, and links for accessing the data are available on the TCEQ website.
The National Park Service of the United States has several missions to fulfill. Here at Chamizal National Memorial, we celebrate the cultural diversity of our borderland area as well as cultures around the world. As a part of El Paso's history, it is our mission to teach the public about international cultures. As part of the National Park Service, it is also our mission to promote active research and monitoring of the amount and effects of air pollution, as well as to educate the public in the importance of clean healthy air. Chamizal has actively chosen to partner with the state of Texas and TCEQ. Many other national parks maintain internal or regional teams of scientists who monitor air quality. For more information on these teams, check the NPS Air Quality website.