Hiking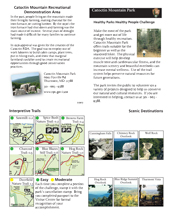 ---
Healthy Parks - Healthy People
Hiking Challenge
Enjoy the park and improve your health by hiking the many scenic and interpretive trails. Stop by the visitor center to pick up your booklet to track your progress. After you complete each hike, you can stamp your booklet at the visitor center. Have fun!


Hall of Fame: Completed Challenges

| | | |
| --- | --- | --- |
| Mark LeGrande 3/27/11 | Mary Eno 3/27/11 | Aimee Boumiea 6/30/11 |
| Michael Boumiea 6/30/11 | Kim J. Hawkins 7/1/11 | Dave Ozminski 7/1/11 |
| Russell J. Brown 8/31/11 | Lindsey Evers 8/31/11 | Michael J. Scobie 9/5/11 |
| Cheri H. Scobie 9/5/11 | Andrew J. Buskey 9/17/11 | Sandra Balliet 9/24/11 |
| Kylen Johnson 9/24/11 | Rajbei Gill 9/24/11 | Valerie Federman 9/24/11 |
| Steve Gold 9/24/11 | Ullrich Jentz 10/6/11 | Alyson Jentz 10/6/11 |
| Bob Sears 10/6/11 | Behrad Mahdi 10/8/11 | Maryane Zahn 10/15/11 |
| Joseph Zahn 10/15/11 | Carol 10/15/11 | Cathie Hardy 10/23/11 |
| Matthew Morrison 11/6/11 | Joe Bruce 11/20/11 | Laura Bruce 11/20/11 |
| Kevin Bruce 11/20/11 | Keira Bruce 11/20/11 | Kara Harris 12/17/11 |
| Chris Nelson 12/17/11 | Saleena DeVore 11/25/11 | Anne Shubert 12/30/11 |
| Mireya Pasa 1/8/12 | Janet Koontz 2/18/12 | Jay Koontz 2/18/12 |
| Annette Nowosielski 4/14/12 | Katrina Harris 7/27/12 | D'mitri Harris 7/27/12 |
| Jocelyn Harris 7/27/12 | Carol Rabenhorst 12/15/12 | James Blizzard 5/18/13 |
| Dotty Becker 5/26/13 | Scott Becker 5/26/13 | Tim Mueller 6/26/13 |
| Rosie Resnick 7/7/13 | James Mirabella 7/26/13 | Ruth Mirabella 7/26/13 |
| Laura Mirabella 7/26/13 | JP Mirabella 7/26/13 | Cassandra Mirabella 7/26/13 |
| Gayle Blizzard 9/15/13 | Stephen Pope 3/21/2014 | Kim Snyder 5/25/14 |
| Scott Slocum 5/27/14 | Daniel R. Brugh 6/2/14 | Suzanne M. Crowley 6/2/14 |
| Yifan Chen 6/14/14 | James Willett 6/15/14 | Jess Kromer 6/15/14 |
| Rebecca Kennedy 7/7/14 | | |
Special recognition to Tim Mueller for completing the challenge in 1 day (5.5 hours) and Matt Morrison for completing the challenge in two days.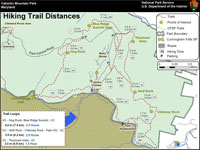 NPS map
---
East Side Trails
The east side of the park features stunning vistas, challenging terrain, and access to Cunningham Falls. Most trailheads begin at the visitor center. Parking and trailheads are also available by the park headquarters and at three points along Park Central Road.
Click the map on the right for trail lengths or download guides of some more common trails:
Shorter in Length - 1 mile or less round trip
Moderate in Length - 2.5 miles to 5 miles round trip
Longer in Length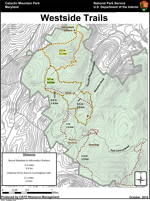 NPS map
---
West side trails
The west side of the park is the wilder side. Adventurous hikers are more likely to see wildlife, wetlands, and an up-close view of nature. Remnants of former farms dot the land. The park's picnic areas, campgrounds, and back-country shelters connect with the trails.
The Catoctin Trail and the Horse Trail dominate the west side. Hikers may use the Catoctin Trail to access Cunningham Falls (~2 miles from the Chestnut Picnic Area).

Click on the map to the right for trail lengths and contours, or download the trail guides below:
---
Tips for Planning Your Trip
Bring a daypack with food and water. No matter what season, visitors should always bring water when hiking.
Hike with a friend (buddy system). Dogs need to be on leashes at all times.
Wear sturdy hiking shoes. Sandals are not recommended.
Be aware of the weather! Check the weather forecast before you leave your house and plan accordingly (i.e. rain gear if possibility of rain). Wear layers of clothing to add or take off as the weather and your body temperature change.
Be aware of the trail and fauna (such as snakes and bees) on the trails. Avoid deviating from the trail and getting lost. This helps us protect the resources by limiting our impact on the forest. If wildlife is encountered do not taunt, touch or feed, and enjoy watching from a safe distance.
Be very careful at overlooks and rock formations to avoid slips and falls as the rocks can be slippery and the formations have long, deep crevices that can cause injury or death. Rock climbing at Wolf Rock is allowed by permit only (issued at Visitor Center).
Leave No Trace. We are a trash free park. Everything brought in needs to leave with you.
Leave wildflowers and other flora for all to enjoy.
Be aware that cell phones may not work in all areas of the park and many service providers do not work at all. Test your phone for coverage.
If you or someone you are with is injured report it to the first Park Ranger you encounter. (Emergency dispatch phone number: 1-866-677-6677).
Remember, walking/hiking estimated time varies on hiking ability and pace. Finally, have fun, be safe and have an adventure!


Did You Know?

After camping in Misty Mount for 1 season (1937), the Maryland League for Crippled Children moved to Camp Greentop, one of the earliest camps in the nation designed specifically for people with disabilities. Renamed The League for People with Disabilities they continue to camp in Greentop today.