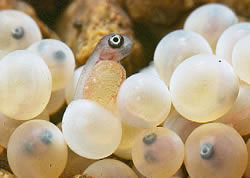 ---
What makes a healthy trout stream?
Water Yes, of course, but water comes in many varieties. Trout like clear, swift water. Swift water with alternating pools and riffles provides trout with enough oxygen for their active lifestyles. The dam on Big Hunting Creek traps sediment and guarantees a base flow of 1.5 cubic feet per second.
Temperature Trout prefer cool water. They can overheat in temperatures over 65°F. Plenty of trees and sturdy riverbanks help keep a stream cool. The dam on Big Hunting Creek releases water from the bottom of the lake in the summer to help lower temperatures.
Food Trout are predatory and eat anything they can swallow. Therefore, a healthy trout stream supports plenty of insect larvae, crustaceans, and other fish. A swift, silt-free stream with tree cover provides the best habitat for the trout's prey.
Shelter Trout are shy. They need pools to hide in and cool themselves. Pools also help the stream's chemical balance, so that the trout's sensitive prey can thrive.
Breeding ground Trout eggs can only incubate and hatch in a silt-free nest. They, like the adult fish, need plenty of oxygen and clean water, but they cannot move to find it. Gravelly areas near riffles provide good nesting ground.
Source: Means, John. Maryland's Catoctin Mountain Parks. The McDonald & Woodward Publishing Company, 1995.