Sandburg Summer Stage Performances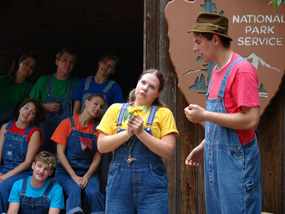 NPS Photo
June 18 - August 9
Wednesday through Saturday
10:15 am - 10:45 am.

Carl Sandburg Home National Historic Site brings Sandburg's work back to the stage this summer in free public performances of The World of Carl Sandburg and Rootabaga Stories. These 30-minute programs feature the cast and directors from The Vagabond School of the Drama, an apprentice program of the Flat Rock Playhouse. Performances are held at the park amphitheatre adjacent to the historic Sandburg home.
The World of Carl Sandburg - Wednesday and Friday Mornings
The World of Carl Sandburg is a 30-minute reprise of the 1960 Broadway play. Sandburg collaborated on this production with its creator Norman Corwin, and after its Broadway debut has been a favorite of theaters throughout the country ever since. The narrative is Sandburg's own words as found throughout his collections of poetry and prose, and features music as found in his collection of folk music, The American Songbag.
Rootabaga Stories - Thursday and Saturday Mornings
Sandburg's Rootabaga Stories are woven together with musical tunes from Sandburg's collection of folk music found in his American Songbag. The result is 30-minutes of zany, toe-tapping stories that delight "children" of all ages. Carl Sandburg created his own version of American fairy tales when he published Rootabaga Stories (1922) and Rootabaga Pigeons (1923). He replaced the European fairy tale cast of princes, princesses, castles and kingdoms with icons American children would recognize -- taxi-drivers, movie actors, skyscrapers, prairies and automobiles.