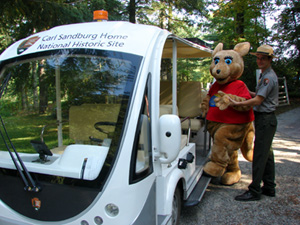 NPS Photo
The visitor parking lot is located at 1800 Little River Rd, Flat Rock, NC.

There are 2 accessible parking spaces near the pedestrian entrance to the park. The walk from the visitor parking lot to the home is 1/3 mile and gains 100 feet in elevation. This can be challenging for many visitors. If you feel this climb may be a challenge for you, please call a park ranger from either of two phones. One is located adjacent to the accessible parking spaces the second is located on the wall outside of the restroom facilities near the lake. The ranger will either be able to provide a shuttle from the restrooms or will make other accommodations.
Due to the nature of the park's location on mountainous terrain, visitors will encounter changes in grade, uneven pathways and gravel paths. Please call ahead for more information or seek the assistance of a ranger at the start of your visit.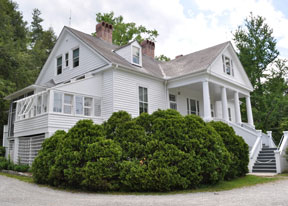 NPS Photo
The Sandburg Home is a three-story antebellum home built in 1838. The first floor is accessible as it is on ground level with small thresholds. The second story is accessible by stairs or a lift for visitors using mobility devices. The third story is only accessible by stairs, however the bulk of the visitor tour is on the main level and second story of the home.
Assistance Available During Your Visit

A walker and wheelchair are available by request.

Assisted listening devices are available for the house tour and videos

A shuttle operates seasonally from the restrooms near the parking lot to the house and barn