Creole History and Culture
What Does it Mean to be Creole?
In colonial Louisiana the term "Creole" was used to indicate New World products derived from Old World stock, and could apply to people, architecture, and foodways. Regarding people, Creole historically referred to those born in Louisiana during the French and Spanish periods, regardless of their ethnicity. Today, as in the past, Creole transcends racial boundaries. It connects people to their colonial roots, be they descendants of European settlers, enslaved Africans, or those of mixed heritage, which may include African, French, Spanish, and American Indian influences.
Cane River Creole National Historical Park's Oakland and Magnolia Plantations are excellent places to immerse oneself in the Creole culture and observe their past and continuing contributions to our entire nation.
For more information about Creole culture visit the Creole Heritage Center.
Saint Augustine Historical Society
Other Resources
NSU Creole Genealogy http://www.creoleheritagecenter.com/projects/library-research/
NSU Creole Heritage Center http://www.nsula.edu/creole/
Did You Know?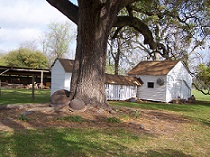 The complexity, integrity, and completeness of the park's extant vernacular architecture illustrate Creole resilience, resourcefulness, and adaptations to the environment.