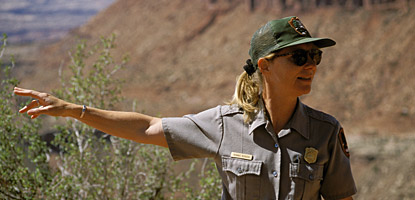 NPS Photo by Neal Herbert
Rangers present a variety of interpretive programs March through October at the Island in the Sky and Needles districts. Schedules and times vary so please check visitor center and campground bulletin boards for current listings. Programs may be cancelled due to staffing or weather.
Program Schedule:

The Island in the Sky District currently offers four programs daily. Geology presentations are offered at Grand View Point at 10:30 and 11:30 a.m. and short ranger talks are offered at the visitor center at 10:30 a.m. and 2:30 p.m. Beginning September 7, 2014, we will be offering a special guided walk to celebrate the 50th anniversary of Canyonlands National Park. That walk will take place along the Grand View Point Trail from 1-2:30 p.m. every day through September 30. Rangers also offer the occasional night sky program. You can find more information about those programs here.
The Needles District offers evening programs at the Squaw Flat Campground most nights of the week. Topics range from exotic plants and astronomy to cowboys and explorers; most programs last about one hour.
The Maze District offers guided hikes in Horseshoe Canyon most weekends during spring and fall.