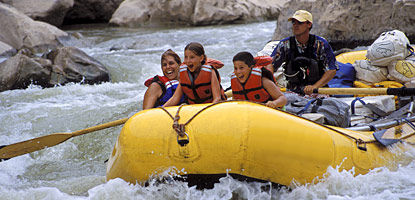 NPS Photo by Neal Herbert
Travel to backcountry areas requires planning, experience and equipment that is often expensive. For visitors without the resources or inclination to plan their own excursions, guided trips offer the perfect way to experience the wonders of Canyonlands.
The companies listed here are authorized by the Park Service to conduct tours in Canyonlands. Guided trips are offered for hiking, biking, four-wheel driving and river running. Some companies combine a variety of these activities, and trips may vary in length from one to many days.
Company

Activities

Adrift Adventures of Canyonlands
(800)874-4483, (435)259-8594
White water
Adventure Bound
(800)423-4668, (970)245-5428
White water
Colorado River & Trail Expeditions
(800)253-7328, (801)261-1789
White water
Don Hatch River Expeditions
(800)346-6277, (209)736-4677
White water
Escape Adventures
(435)259-7423, (800)596-2953
Mountain Biking
Holiday River Expeditions
(800)624-6323, (801)266-2087
White water, Mountain Biking
Magpie Cycling Adventures
(800)546-4245, (435)259-4464
Mountain Biking
Moki Mac River Expeditions
(800)284-7280, (801)268-6667
White water
NAVTEC Expeditions
(800)833-1278, (435)259-7983
4WD tours, White water
OARS Canyonlands Inc.
(800)346-6277, (209)736-4677
4WD tours, White water
Rim Tours
(435)259-5223
Mountain Biking
San Juan Expeditions
(See Tag-a-Long Expeditions)
White water
Sheri Griffith River Expeditions
(800)332-2439, (435)259-8229
White water
Tag-A-Long Expeditions
(800)453-3292, (435)259-8946
White water,
Jet boat tours, Canoe shuttles
Tex's Riverways
(877)662-2839, (435)259-5101
Canoe shuttles, Jet boat tours
Tour West
(800)453-9107, (801)225-0755
Whitewater
Western River Expeditions
(800)453-7450, (801)942-6669
Whitewater
Western Spirit Cycling
(800)845-BIKE, (435)259-8732
Mountain biking
Wilderness River Adventures
(928)645-6049
Whitewater
World Wide River Expeditions
(435)259-7515
Whitewater