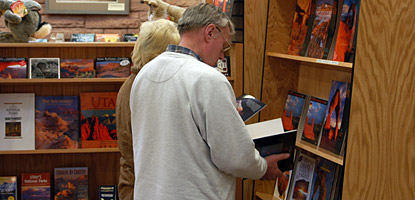 NPS Photo by Neal Herbert
Canyonlands Natural History Association (CNHA) is a nonprofit organization assisting the National Park Service in its educational, interpretive and scientific programs throughout southeast Utah. Known as a "cooperating association," CNHA's goals include enhancing visitors' understanding and appreciation of public lands by providing a selection of quality, educational materials for sale in many vistor centers. Twenty percent of these sales is returned to the National Park Service and other federal land management agencies.
To learn more, shop online or become a member, visit www.cnha.org. Staff are also available by phone during normal business hours at (435)259-6003.


Visitor Guide

Download our visitor guide, trip planner, and brochures on a variety of topics. Read More