Natural Features & Ecosystems
Cape Krusenstern has grand and minute features that make it special. The vast system of lagoons provide wetland habitat for waterfowl and shorebirds from around the world. The rolling hills that shelter muskoxen are the farthest west extension of the mighty Brooks Mountain Range. The beach ridge complex has provided thousands of years of home ground for marine mammal hunters. Bob Uhl is intimately familiar with the features of this ecosystem through decades of living on the land and boundless curiosity. His journals tell a story of everything great and small on the landscape.
Did You Know?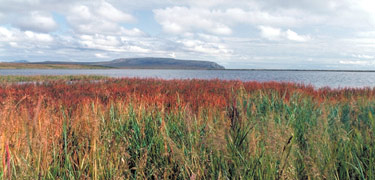 In 1980, with the passage of ANILCA (Alaska National Interest Lands Conservation Act), much of the traditional homeland of the Inupiat Eskimos of Northwest Alaska became national parks, preserves, monuments, and wildlife refuges.