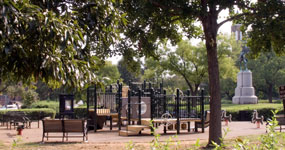 NPS Photo by Kenneth J. Chandler
Indicated on Pierre L'Enfant's original plan for the city of Washington in 1791 as No. 5, Stanton Park is one of the larger Capitol Hill Parks. The four acres bound on its northern and southern sides by C Street between 4th and 6th Streets in the Northeast quadrant of the city were named for President Lincoln's Secretary of War Edwin Stanton following the Civil War.
While the park is named after Edwin Stanton the statue featured at the center of the park depicts revolutionary war hero General Nathanael Greene. Greene is honored for his command of the Army of the South and credited with driving the British out of the Carolinas and Georgia in 1782. Greene's statue is surrounded by formal walkways and flower beds introduced during the 1933 redesign of the park. A play area, just west of the statue was added in the 1964 redesign of the park. Stanton park is a wonderful example of the natural and urban aesthetic in the design of the Nation's Capitol.
Lincoln and Stanton Park Turf Improvement

Turf improvement to take place in portions of Lincoln and Stanton Park from October 14, 2014 to June 30, 2015. Read More