Sections of Boardwalk Closed at Red Maple Swamp Trail

Sections of the boardwalk at the Red Maple Swamp Trail have been closed due to structural deterioration and safety concerns. Check at Salt Pond Visitor Center for the current status of this trail, and for your safety, remain out of closed areas.
Highlands Center Public Art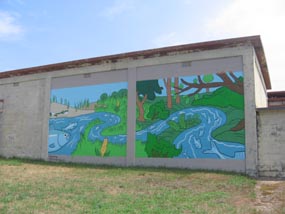 NPS photo
Partners and Volunteers Engage in Collective Artistic Action
Highlands Center at Cape Cod National Seashore is a special place in the park for artistic expression. New public art works complement the cultural programming occurring onsite by Payomet Performing Arts Center and Truro Center for the Arts at Castle Hill.
Fostering engagement in the site, Highlands Center partners have contributed creative expressions by painting colorful, evocative murals. From their conception by AmeriCorps Cape Cod members - to their completion by adults and children at annual public festivals - the celebratory murals showcase natural resource management and volunteerism through art.
Please check back to this page for the site's evolving artistic expressions.
Taking Root: Celebrating the Highlands Center community mural
Earth Energy Cycle mural in recognition of DOE ARM Climate Research Deployment 2012-2013 - explained
Globes - Looking Towards a Greener Tomorrow, Today
Coastal Change mural - Metamorphose
Celebrating Volunteerism mural - Making Waves
Climate Friendly Parks and 50th CCNS Anniversary murals
Sculptures at Highlands Center - Sculptures by Donald Gerola and Del Filardi
Beach Point Cottages photo banner - Helen Strong Photography
Did You Know?

Kettle pond surface water levels are controlled by local groundwater levels. Around Cape Cod National Seashore ponds, these levels range from six to nine feet above average sea level. The bottoms of all the kettle ponds are below sea level.