Highlands Center Programs and Events
Calendar of 2015 Events
We and our partners offer the following activities: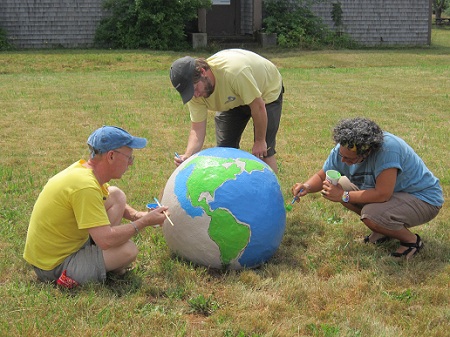 Joyce Johnson
Save the Date! Highlands Fest 2015 will be held on Saturday, June 27.
Payomet Performing Arts Center
Payomet is planning a dynamic & engaging 17th summer season with children's classes, theater & music at their Highlands Center tent from mid-June to mid-September.
Call 508-487-5400 or view www.payomet.org


Fired Up at the Castle Hill Kiln
Truro Center for the Arts at Castle Hill will hold 3 firings of its wood-fired kiln at the Highlands Center.
Firing June 28, 29, & 30 with unloading July 4

Firing August 16, 17, & 18 with unloading August 22

Firing October 10, 11, & 12 with unloading October 16
Past Events
Flyer for Highlands Fest 2014: Taking Root - Saturday, June 28 10AM - 2PM free.
Ranger-Led Walk: Truro Treasures Weekend Tour: Sunday, Sept. 21, 2014 from 10-11 AM.

Highlands Fest 2013:Weathering Change in our Air, Land & Sea
Each year we engage in participatory activities expressing science through art at Highlands Fest. In 2013 we pitched in on the creation of engaging murals to showcase climate research and heard from personnel involved with the Department of Energy's Atmospheric Radiation Measurement (ARM) Mobile Climate Research Facility, who have been gathering data during a one-year deployment at the Highlands Center to advance long-term climate models. We watched a weather balloon launches, learned, listened to live music, enjoyed light refreshments and supported our Climate Friendly Park through public art!
DOE ARM Climate Research Facility (July 2012 - July 2013)
The Department of Energy's Atmospheric Radiation Monitoring System Mobile Climate Research Facility has been engaged in a one-year deployment at Highlands Center. The goal was to study aerosols - tiny particles in the air such as dust, soot and sea salt - to improve understanding of how aerosols effect Earth's climate.
Learn more about ARM at their website. Or view the video below with excerpts from a NPR interview with Principal Investigator Dr. Larry Berg.
Heather Goldstone, from NPR station WCAI in Woods Hole, Massachusetts, interviews Dr. Larry Berg, scientist at Pacific Northwest National Laboratory and principal investigator of the Two-Column Aerosol Campaign (TCAP). TCAP is a DOE-sponsored field campaign that took place from July 2012 to June 2013.

Duration:

8 minutes, 41 seconds