Salt Marsh Dieback on Cape Cod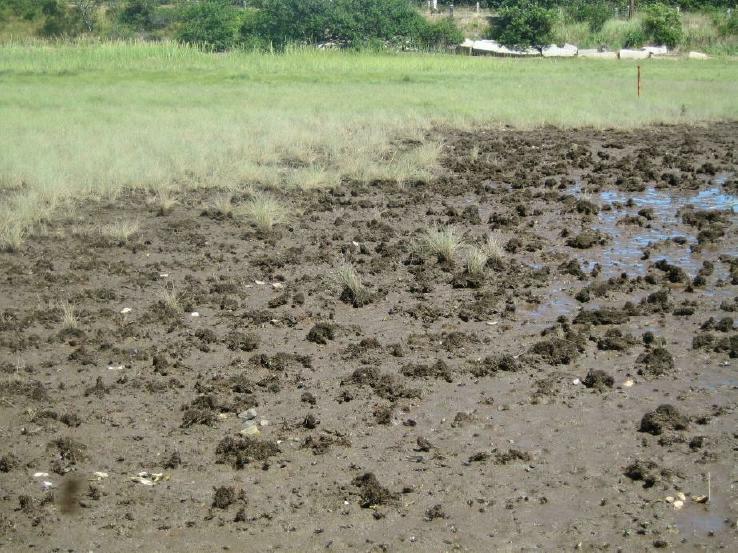 OVERVIEW
Implementation of CACO's salt marsh Inventory & Monitoring protocols led to the discovery of large areas of vegetation loss within the Seashore in 2003.
Unbeknownst to NPS staff, something similar had also been found a year earlier in several marshes outside the Seashore (reported by R. Rozsa and S. Warren - see timeline link below).
What is salt marsh dieback on Cape Cod?
salt marsh dieback refers to the loss of salt marsh vegetation that cannot otherwise be explained by erosion, wrack kills, alterations in tidal flow (i.e., restriction or restoration), etc....MORE
When did it begin?
permanent losses of salt marsh vegetation are evident in photography from the early 1980s, although losses began at different times for different marshes
no large-scale simultaneous losses across multiple marshes has occurred during a single year; i.e., the losses have occurred progressively over decadal time scales...MORE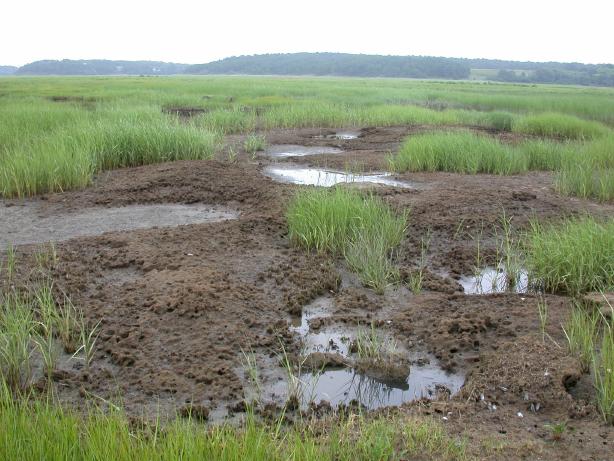 What are the suspected causes?
low marsh (Spartina alterniflora) losses have been shown by Dr. Mark Bertness (Brown University) and his students to be a consequence of intense grazing pressure by a herbivorous crab, Sesarma reticulatum ...MORE
high marsh losses (Spartina patens, Distichlis spicata) may be the result of herbivory, hydrology (sea level rise), and soil properties; studies are ongoing...MORE
other hypotheses...MORE
How have vegetation losses affected the marshes?
losses of creekbank vegetation (S. alterniflora) results in heavy erosion, which is evident as large increases in tidal channel widths and structure and overall reductions in marsh area...MORE
Geography of dieback
although experimental field work has focused on Cape Cod so far, other areas of southern New England show patterns of vegtetation loss that are strikingly similar...MORE
Publications
S.M. Smith. 2008. Multi-decadal changes in salt marshes of Cape Cod, Massachusetts: a photographic analysis of vegetation loss, species shifts, and geomorphic change. Northeastern Naturalist (in press).

Bertness, M.D. and B.R. Silliman. 2008. Consumer Control of Salt Marshes Driven by Human Disturbance. Conservation Biology 22: 618-623 .

Holdredge, C., M.D. Bertness and A. Altieri. Crab herbivory drives cordgrass die-off in New England salt marshes. In press. Conservation Biology.

Bertness, M.D., Holdredge, C., and A. Altieri. Substrate-type mediates control of salt marsh primary productivity in Cape Cod, MA. In press. Ecology.
Questions or comments - please contact:
Stephen Smith, Ph.D., Plant Ecologist, Cape Cod National Seashore, 99 Marconi Site Road, Wellfleet, MA, 02667; stephen_m_smith@nps.gov; 508-487-3262x104