U.S. Highway 89 Bryce Canyon to Grand Canyon

Road damage south of Page, Arizona will impact travel between Bryce Canyon and Grand Canyon National Parks. Click for a travel advisory and link to a map with suggested alternate routes: More »
Sunset Campground Construction

From April-July 2014, three new restroom facilities will be constructed in Sunset Campground. Visitors may experience construction noise and dust, as well as some campsite and restroom closures. 'Sunset Campground' webpage has additional information. More »
Bryce Point to Peekaboo Connector Trail Closure

Due to a large rockslide, the connecting trail from Bryce Point to Peekaboo Loop is closed. Trail will be reopened once repairs are made. The Peekaboo Loop is open, but must be accessed from Sunset or Sunrise Point.
Wall Street Section of Navajo Loop Closed

Due to dangerous conditions (falling rock and treacherous, icy switchbacks), the Wall Street section of the Navajo Loop Trail is CLOSED. It will reopen in Spring once freezing temperatures have subsided.
Backcountry Campsite Closures

Due to bear activity at select campsites in Bryce Canyon's backcountry, two backcountry campsites have been closed until further notice: Sheep Creek and Iron Spring.
Swamp Canyon Trail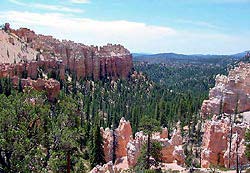 NPS
Swamp Canyon appears relatively small and sheltered from the overlook, bounded on both sides by fins and hoodoos. This size allows the viewer to develop a more intimate connection with the landscape than some of the grander viewpoints may provide. From the Swamp Canyon overlook, hikers can descend to either side of the prominence on a trail that will connect with the Under-The-Rim Trail and then return on the other side, making a loop. Though a Moderate Hike, this trail can be difficult if not prepared. Please carry plenty of water and other appropriate items to aid you in your hike.
Total Distance:

4.3 miles
7.16 km

Climbing:

800 feet
244 m

Descending:

800 feet
244 m

Min/Max:

7431/8059 feet
2265/2456 m
Did You Know?

Pronghorn, once roaming the plains of North America in numbers second only to Bison, can be found at Bryce Canyon National Park. They are the fastest land mammal on the continent and only the second fastest mammalian runner in the whole world, reaching speeds of up to 60 mph! More...