U.S. Highway 89 Bryce Canyon to Grand Canyon

Road damage south of Page, Arizona will impact travel between Bryce Canyon and Grand Canyon National Parks. Click for a travel advisory and link to a map with suggested alternate routes: More »
Sunset Campground Construction

From April-July 2014, three new restroom facilities will be constructed in Sunset Campground. Visitors may experience construction noise and dust, as well as some campsite and restroom closures. 'Sunset Campground' webpage has additional information. More »
Bryce Point to Peekaboo Connector Trail Closure

Due to a large rockslide, the connecting trail from Bryce Point to Peekaboo Loop is closed. Trail will be reopened once repairs are made. The Peekaboo Loop is open, but must be accessed from Sunset or Sunrise Point.
Wall Street Section of Navajo Loop Closed

Due to dangerous conditions (falling rock and treacherous, icy switchbacks), the Wall Street section of the Navajo Loop Trail is CLOSED. It will reopen in Spring once freezing temperatures have subsided.
Backcountry Campsite Closures

Due to bear activity at select campsites in Bryce Canyon's backcountry, two backcountry campsites have been closed until further notice: Sheep Creek and Iron Spring.
North Campground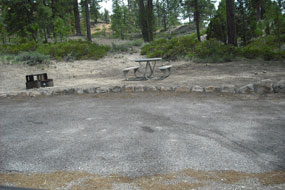 NPS
(At least one loop is open year round*)
North Campground is located across the road to the east of the Bryce Canyon Visitor Center and is comprised of 99 sites in 4 loops; A, B, C, D. Cost is $15 per site/per night.
13 Recreational Vehicle (RV) sites are reservable during certain times of the year in Loop A (See Reservation Dates below). Cost is $15 per site/per night.
North campground is closest to the general store. Loops A & B are for RV campers. Loops C & D are for tent campers.
There are no sewer, water or electrical hook-ups available. A dump station is available in summer months at the south end of the campground for a $5 use fee. Potable water is available near the dump station.
Reservation Dates:
2012 - May 4 - September 23
2013 - May 10 - September 22
2014 - May 9 - September 21
2015 - May 8 - September 27
2016 - May 6 - September 25
To make reservations for 13 RV sites call (877) 444-6777 or click www.recreation.gov. Reservations for these sites can be made from 6 months to 2 days in advance (minimum advance reservation is two days).
All other sites are available on a first-come, first-served basis.
*NOTE: During winter months all sites/loops may not be open due to winter weather conditions, such as freezing temperatures and deep snow.
NOTE: Click here for a map of the campgrounds.
Did You Know?

The Bryce Canyon Paintbrush was discovered June 24, 1965 at Inspiration Point in Bryce Canyon National Park. This rare wildflower is only found in southwestern Utah. More...