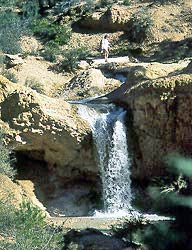 nps
Take the left fork of the trail up to Mossy Cave. Mossy Cave is not a cavern but a shelter cave. Here, depending on the season, you will see a large overhang filled with moss, giant icicles. Mossy Cave is a grotto, created by an underground spring.
Take the right fork of the trail and you'll end up above a small waterfall. Here, the rapid trenching of this stream has been delayed by a layer of Dolomite. Dolomite is a special form of limestone that is fortified by magnesium. Dolomite is not only harder than regular limestone, it also can't be dissolved by slightly acidic rainwater. Dolomite is what has created this waterfall and it is also the cap rock for our more famous and durable hoodoos.
Nature

The presence of water alone is what makes Water Canyon unique. Although you might not see them (animals tend to avoid busy trails - especially in daylight hours), a wide diversity of animals come here regularly to quench their thirst. The supply of water is still recent enough that nature hasn't quite caught up yet. Eventually more riparian trees like willows and cottonwoods will probably grow here. In the meantime you'll be surprised to see some plants that you might expect to find along a brook in a mountain meadow, such as and Watson Bog Orchid.
Trails

The Mossy Cave trail is an excellent hike for children, senior citizens, or others wishing to see hoodoos up close but without having to hike long trails up and down steep slopes. It is rated as an easy trail with a round trip distance of .9 miles.
Services

None
That's the end of our virtual tour! Start over or find out what else you can do at Bryce Canyon National Park!