Back Country Campsite Closed

Due to bear activity at Bryce Canyon's back-country, the following campsite has been closed until further notice: Sheep Creek
Bristlecone Loop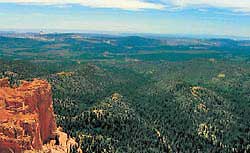 NPS
The Bristlecone Loop, accessible from Rainbow Point at the southern end of the park, meanders through the forest atop this highest portion of the park, reaching elevations over 9,100 feet (2778 m). Here you will pass by Bristlecone Pines up to 1,800-years-old and experience vistas reaching into the Four Corners area.
The forest here is dominated by Blue Spruce, Douglas-fir and White Fir, making this good habitat for grouse, woodpeckers, owls, and a variety of squirrels and chipmunks. Here you are also sure to see Ravens and Steller's Jays. These bird species are important reminders to the fact that although many plants and animals are limited to certain types of habitat, other kinds can range through several different habitats. Remember, please don't feed the wildlife.
This trail may be inaccessible during mid-winter due to snow depths ranging from 2-15 feet (.7-5 m)
Total Distance:

1.0 miles
1.6 km

Climbing:

195 feet
59 m

Descending:

195 feet
59 m

Min/Max:

8967/9115 feet
2733/2778 m
Did You Know?

Bryce Canyon, first designated Bryce Canyon National Monument on June 8, 1923; reached National Park status on September 15, 1928. More...