U.S. Highway 89 Bryce Canyon to Grand Canyon

Road damage south of Page, Arizona will impact travel between Bryce Canyon and Grand Canyon National Parks. Click for a travel advisory and link to a map with suggested alternate routes: More »
Sunset Campground Construction

From April-July 2014, three new restroom facilities will be constructed in Sunset Campground. Visitors may experience construction noise and dust, as well as some campsite and restroom closures. 'Sunset Campground' webpage has additional information. More »
Bryce Point to Peekaboo Connector Trail Closure

Due to a large rockslide, the connecting trail from Bryce Point to Peekaboo Loop is closed. Trail will be reopened once repairs are made. The Peekaboo Loop is open, but must be accessed from Sunset or Sunrise Point.
Wall Street Section of Navajo Loop Closed

Due to dangerous conditions (falling rock and treacherous, icy switchbacks), the Wall Street section of the Navajo Loop Trail is CLOSED. It will reopen in Spring once freezing temperatures have subsided.
Backcountry Campsite Closures

Due to bear activity at select campsites in Bryce Canyon's backcountry, two backcountry campsites have been closed until further notice: Sheep Creek and Iron Spring.
Bristlecone Loop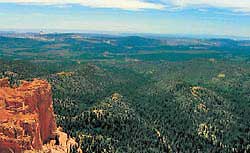 NPS
The Bristlecone Loop, accessible from Rainbow Point at the southern end of the park, meanders through the forest atop this highest portion of the park, reaching elevations over 9,100 feet (2778 m). Here you will pass by Bristlecone Pines up to 1,800-years-old and experience vistas reaching into the Four Corners area.
The forest here is dominated by Blue Spruce, Douglas-fir and White Fir, making this good habitat for grouse, woodpeckers, owls, and a variety of squirrels and chipmunks. Here you are also sure to see Ravens and Steller's Jays. These bird species are important reminders to the fact that although many plants and animals are limited to certain types of habitat, other kinds can range through several different habitats. Remember, please don't feed the wildlife.
This trail may be inaccessible during mid-winter due to snow depths ranging from 2-15 feet (.7-5 m)
Total Distance:

1.0 miles
1.6 km

Climbing:

195 feet
59 m

Descending:

195 feet
59 m

Min/Max:

8967/9115 feet
2733/2778 m
Did You Know?

The Bryce Canyon Paintbrush was discovered June 24, 1965 at Inspiration Point in Bryce Canyon National Park. This rare wildflower is only found in southwestern Utah. More...