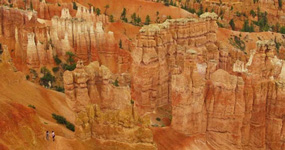 NPS
Bryce Canyon National Park is renowned for its spectacular geology and colorful rock formations. In recognition of National Park Week, special promotions will be offered by Forever Resorts and the Bryce Canyon Natural History Association. Park rangers will offer special programs. For details on National Park Week check at the park's visitor center, opened daily from 8 am to 6 pm. Here you can obtain information on hiking, trail conditions and ranger programs. You can also purchase books, watch an orientation video and explore the museum. The Bryce Canyon Lodge, restaurant, gift shop and general store are open for the season. North Campground is also open. Canyon Trail Rides offers guided horse trips into the canyon.
The park has closed the Wall Street section of the popular Navajo Loop Trail due to falling rocks and will remain closed until further notice. When conditions are safe, park staff will assess the trail conditions to determine when it can be reopened. Visitors should inquire at the Visitor Center for the latest trail information.
The other section of the Navajo Loop Trail, known as Two Bridges, remains open but visitors are cautioned to watch out for falling rocks and slippery trail conditions. Hiking is at their own risk. Along this trail, visitors can still complete the 3-mile long Queen's Garden/Navajo Loop Combination Trail.
Due to abundant snow fall this winter, the park is still largely snow covered. Visitors should be prepared for winter driving conditions and dress appropriately. The park's trails are snow-packed, icy, muddy and slippery. Visitors are urged to wear hiking boots with lugged soles for traction and use caution when descending and ascending steep trails.