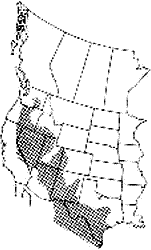 NPS
When and where to see at Bryce:
Striped Whipsnakes are occasionally seen during summer days. Although not particularly common, they can be found in almost any habitat within Bryce Canyon.
Further Reading:
Behler, John L. and F. Wayne King, 1979: National Audubon Society Field Guide to North American Reptiles and Amphibians, Alfred A. Knopf, Inc., New York, pg. 631.
Moon, Brad, "," 2000: The Burke Museum of Natural History and Culture, Seattle.