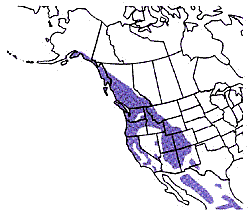 NPS
At one time the ranges of the Steller's Jay and Blue Jay did not overlap. Because of the increased feeding of birds in these picnic and campground areas, the range of the more shameless Blue Jay has steadily moved westward and now overlaps the Steller's Jay's. This new human-caused problem is negatively impacting Steller's Jays, and in many places they are being displaced by the Blue Jay.
When and where to see at Bryce:
The Steller's Jay can be seen all year long and throughout the day at Bryce Canyon. Look for them in the Ponderosa Pine forest along the canyon rim.
Further Reading:
Dunn, John L. 1999. The National Geographic Field Guide to Birds: 3rd Edition. National Geographic, Washington D.C.
Erlich, Paul R. et al. 1988. The Birder's Handbook: a field guide to the natural history of North American Birds, Simon and Schuster/Fireside Books, New York
Ryser, Fred A. 1985. Birds of the Great Basin: A Natural History. University of Nevada Press
Sibley, David Allen. 2001. The Sibley Guide to Bird Life and Behavior. Knopf Publishing