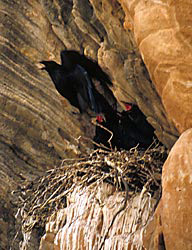 NPS
When hunting, Inuit American Indians use ravens for aerial reconnaissance claiming that the birds lead them to moose. For generations, Inuit have rewarded such ravens by leaving the liver or other choice cuts of moose meat. Since they are very intelligent birds that teach their young the tricks they learned, it's easy to imagine how this relationship was fostered over the years.
Here at Bryce Canyon we have observed mated pairs teaming up to steal food from our bear-proof garbage cans. The female, who is larger and heavier, usually pulls the mailbox-like metal trapdoor open so that the male can fly through the open door. Once inside the male rummages around for a good piece of food and signals his mate. She pulls the door open again and together they fly off to share the prize.
Ravens are certainly not picky eaters. They can, and do, eat anything including: carrion, rodents, insects, reptiles, amphibians, grass seeds, berries, fruit, nuts, shellfish, other bird eggs, human trash, and if hungry enough--mammal dung.
Ravens have few natural predators. Ironically, ravens are only forced to yield the sky to smaller more agile birds like swallows and blackbirds. Ravens can hold their own (oftentimes through strength in numbers) against eagles, hawks, falcons, condors and vultures.
Ravens are especially romantic during the breeding season. Pairs will often fly with wingtips touching even while performing barrel rolls or other aerobatics. At any time of the year, a pair can be found sitting side by side in a tree cooing softly to each other as they preen one another or "Eskimo Kiss" using their long heavy beaks. Ravens mate for life and are one of the few truly monogamous species of songbirds. They will continually use the same nest even after a disturbance or a failed clutch. The female lays 2-7 eggs and does the majority of the 3-week incubation herself, and the male diligently assists by feeding her while she sets on the nest. When a potential threat nears, the male raven will do everything he can to lead the invader away from the nest. Upon hatching, ravens are helpless and require feeding every ½ hour which literally keeps both parents hopping. Unlike raptors, who are seldom able to successfully raise more than 1 chick, ravens routinely succeed at raising 80-100% of the entire clutch to adulthood.
Nesting territories are guarded year round. Ravens will even drive off other ravens if local foraging opportunities are slim. Only Peregrine Falcons are tolerated/respected enough to be allowed to nest nearby. This is not to say ravens fear Peregrines. The raven's ability to fly upside-down and defend itself with both claws and beak is enough to thwart even the fearsome dive-bombing attack of a Peregrine.