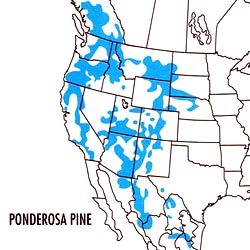 When and where to see at Bryce:
Ponderosas are almost everywhere at Bryce Canyon.
Further Reading:
Buchanan, Hayle 1992.
Wildflowers of Southwestern Utah.
Bryce Canyon Natural History Association. Bryce Canyon, Utah
Lanner, Ron. & Rasmuss, Christine. 1988.
Trees of the Great Basin: a Natural History.
University of Nevada Press
Little, Elbert L.
2001 National Audubon Society Field Guide to Trees - Western Region.
Random House Inc. New York, NY Stuckey
Martha & Palmer, George. 1998.
Western Trees: A Field Guide.
Falcon Publishing, Inc. Helena, MT