Management
The
Final General Management Plan/Environmental Impact Statement (FGMP/EIS)
for the Blue Ridge Parkway has been released. The plan will guide the management of resources, visitor use, and general development at the park over a 20 or more year period. The primary purpose of the plan is to provide a foundation from which to protect park resources while providing for meaningful visitor experiences. Under the selected alternative, Alt. B, the Parkway will be actively managed as a traditional, self-contained, scenic recreational driving experience and designed landscape, while enhancing recreational opportunities and large-scale natural resource connectivity and protection.
PEPC is the NPS Planning, Environment, and Public Comment system. It is a web-based database of projects and activities involved in the operation of NPS units across the country. PEPC is a comprehensive tool designed to support NPS project planning, compliance tracking, comment analysis and response, as well as public communication efforts.


Did You Know?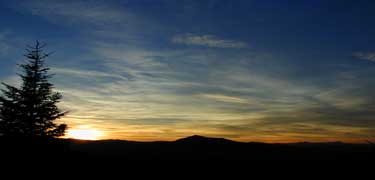 The Blue Ridge Mountains, the mountains the Parkway runs through, are made up of granite, metamorphosed volcanic formations and sedimentary limestone. These mountains were formed over 400 million years ago!